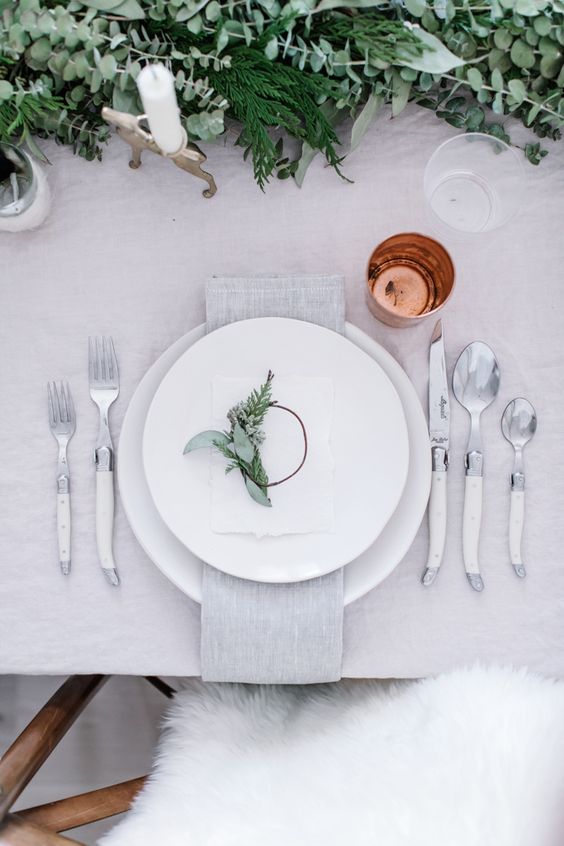 Many of us are spending more and more time entertaining from home as opposed to going out.
With budgets tighter, staying in is a much more bank account friendly option these days. Inviting friends over for dinner parties is more in fashion than ever! There are many aspects of a having dinner party…One of them being the table setting! In this blog, we will help you set your table for a dinner party, and of course, show you how to make it beautiful! 
Your table setting is a great place to let your personality shine through. Do you love colour? Use it! Are you into geometric patterns? Great! Use them on your napkins or placemats! Love bold prints? Add a fabulous printed table cloth!
There are so many fun ways to make a great tablescape.
First of all, let's start with table linens.
Are you using a table cloth? Or are you looking for a more modern look and just using decorative place mats? Maybe neutral tones on your napkins? Either way, having one or all of these options will be great! The napkin can either go to the left of your plates or on top of the plate, folded nicely!
Now that we've laid the linens down (napkins, placemats, and/or tablecloth)
We need to add plates. Depending on how formal you want to be, this will coincide with the amount of plates you need to add. (See the below diagrams and see which appeals to you… formal or casual.)
The above photo shows a very formal dinner setting. For casual entertaining, we recommend using a charger and a dinner plate on top. A charger is a large, decorative dinner plate that usually goes underneath the service plate (the one we use for eating.)  A charger just adds a punch of colour or texture or pattern to the place setting.
I recommend having an extra plate available for a more casual setting for salad and/or bread. It's
more convenient for your guests. With a formal setting, this is a must-have.
Next, onto flatware.
For a formal setting, you will have 3 forks, at least 2 spoons and one dinner knife as well as a bread knife. The forks will be three different sizes, one for salad, one for dinner and one used for dessert. The two spoons needed are a soup spoon, which is slightly larger than the dessert spoon.
For casual entertaining, one of everything is perfectly acceptable. An extra dessert fork and spoon is a nice touch though. Supplying one fork, spoon and knife for dinner is just fine.
Next, you need glasses.
For formal entertaining, a white and red wine glass is placed on the top right of the place setting along with a water glass. After the meal has begun, most guests will chose either a white or red wine and the unused glass can be removed. Once dinner is complete, the addition of a cup and saucer is brought to the table for coffee or tea.
Casual entertaining includes a water glass and a wine glass. Depending on your guests or your glass collection you may only want to offer a neutral wine glass. There are many different types available that are great for multi-purpose and casual settings.
And last but not least…
You'll want to make sure you have a beautiful centerpiece. This goes for both formal and informal dining. A centerpiece is a necessity! There are so many different centerpiece options: you could use flowers, candles, or unique conversation piece. Just make sure it isn't an eyesore and complements the existing table setting. If you're unsure of what to use – get some beautiful fresh flowers. You can never go wrong with a beautiful bouquet!!
Don't let dinner parties stress you out – have lots of food, great conversation, good company and lots and lots of wine – that's a sure solution for a fantastic dinner party!