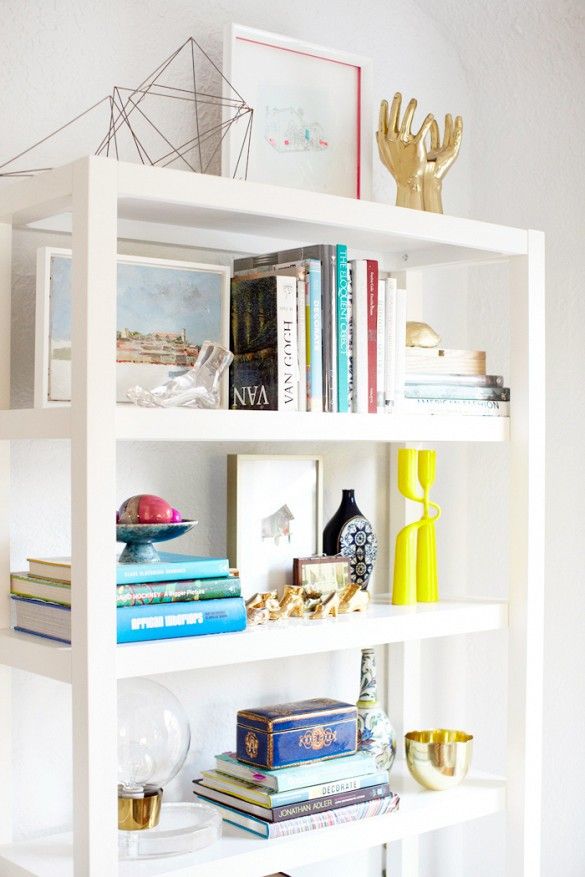 So many times we go into homes where the bookcase is an eye sore, when it should be a beautiful showcase of beloved items and treasures. Many people collect lots of books, but then overcrowd their shelves. A bookcase is a fantastic place to create a focal point in a room and show off beautiful accessories, photos as well as of course, books.
Here are some tips on how to create a stylish bookcase.
1. Don't overcrowd the shelves.
In some instances, floor to ceiling shelves covered in books can be a really nice a look, if the books are arranged in an orderly fashion. Most people don't take the time to organize the books in a visually interesting way and over the years it just becomes a whole bunch of add-ons. Try de-cluttering some of the books that aren't in great shape and tuck those away.
2. Add accessories.
Adding accessories to your bookcase is a fantastic way to add pops of colour or items you love. There are so many great accessories for bookcases: picture frames, interesting bookends, candles, decorative objects, beautiful storage boxes… Anything you want to have on display! You don't need to add accessories to every shelf, but every other one is a nice look. Put your additional items in different spots on the shelf for a "designer look".
3. Arrange books in a variety of patterns
Instead of just having those books standing left to right on every shelf, try stacking some on top of each other with an accessory next to it. Rotate every other shelf having them standing and stacked. The variety of the arrangement will give the bookcase more visual interest and make your accessories and beautiful books pop, where they all may have just blended together. Arranging your books by height or colour is a great organizational tool.
Breaking up the bookcase with different ways of displaying books and adding in decor pieces makes it look clean, organized and functional,