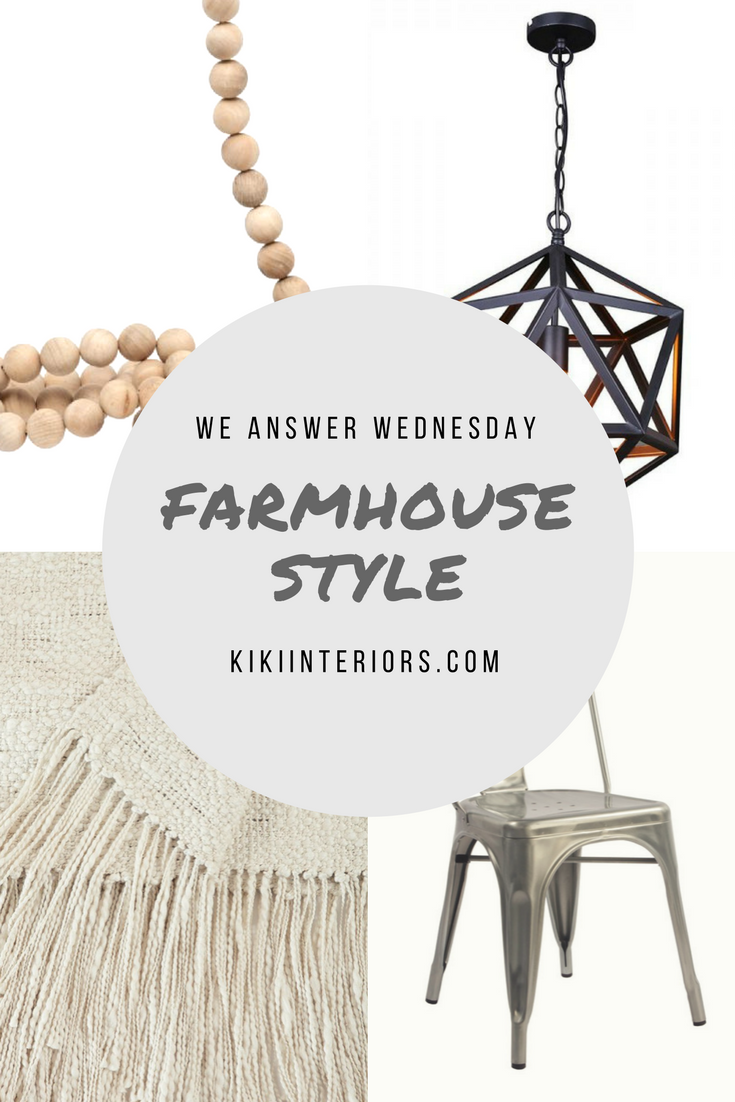 "I see this farmhouse style everywhere – I really like it! How can I get this look in my home without buying all new furniture?"
You are right!  The farmhouse look does seem to be everywhere!  The great news about this style is two fold.
One –
when it comes to the farmhouse look there are many options, levels and directions you can choose.
Two –
it is a cozy and timeless look, so you don't have to worry about being trendy.
 We also love the versatility of this style.  The farmhouse look blends easily with the industrial look and also a rustic look.  But you can easily blend farmhouse with some traditional pieces and some modern elements too.
How can you get the farmhouse style at home?
You are in luck – to get this look you don't need to spend a lot.  You can achieve this look with adding a few elements and pieces.
Here are some of our suggestions:
Farmhouse Art
– art, photography and  even country inspired signs are an easy addition to your space to help you get that farmhouse look. We love this farmhouse sign from Wayfair – so simple and clean a perfect addition for any space that needs that country touch.

Chalkboard
– the ease and casual look of chalkboard gives a space a warmth of a country farmhouse.  It's relaxed and simple – we love chalk board paint – it's easy to use and apply.
Galvanized metal
–  easy pieces like buckets, chairs, even light fixtures in this material add to that country feel.  Be sure to have a dull finish and even a few dings is totally OK. This galvanized metal pitcher – it 'pitcher' perfect! Add some fresh greenery or a cut bouquet and it is a simple farmhouse centerpiece!

Ladder displays
– add another rustic touch plus they are a eat way to store blankets and even books and magazines.  They are great in bedrooms, bathrooms and living rooms. We love this ladder display with framed family photos!
Layer textured rugs
– again keeping a very casual look and mixing up textures adds another element to the laid back farmhouse style.  We love to mix a cowhide with a natural fiber like sisal or even seagrass.
Lighting
– simple lighting fixtures in a metallic and dull finish add a farmhouse character to a space.  Look for pendants with simple and clean lines with a rustic feel. So much of farmhouse style is about simplicity – this pendant has a rustic feel due to the colour and finish and the design is just simple….

Textiles
– in pillows, drapery and blankets are another easy way to get this farmhouse look.   Look for knits, flannel, plaids and soft stone washed fabrics.  Mix them up – farmhouse is a very simple and relaxed look. Layer them and don't get caught up in symmetry.
Add 'practical' pieces
– so decorate with items like laundry wash boards, old farm tools, bowls, baskets, pickle jars and mason jars.  These rustic pieces play into the farmhouse feel.
Add some personality
– the farmhouse style is a relaxed look in every way so keep it casual and fun!  We love to add signs and other items that have a bit of personality.  small accessories in any room can add to that farmhouse feel.  This kitchen utensil holder is a great little piece for a kitchen that fits into the farmhouse look.

Wood
– the farmhouse look is really focused on texture.  Wood is a texture that is closely connected with farms and the outdoors.  Add some wood elements to your space like bowls, boxes, trays, shelving and even a fireplace mantle.  Opt for reclaimed pieces with lots of character.
With this farmhouse style you can 'dial it up' or 'dial it down' as much as you like.  You can go very literal with farm pieces like signage and wire baskets OR you can take some influence from this style and play with the different textures and add the farmhouse essence into your space. We love the warm and cozy feel from this style – we hope you do, too!


Tags:
country home accessories
,
country home decor
,
farmhouse accessories
,
farmhouse decor ideas
,
farmhouse decorating
,
farmhouse home decor
,
farmhouse interior decorating
,
farmhouse style
,
farmhouse trend
,
home decor trends
,
interiors decorating
,
kiki interiors
,
modern farmhouse
,
modern farmhouse decor
,
urban farmhouse