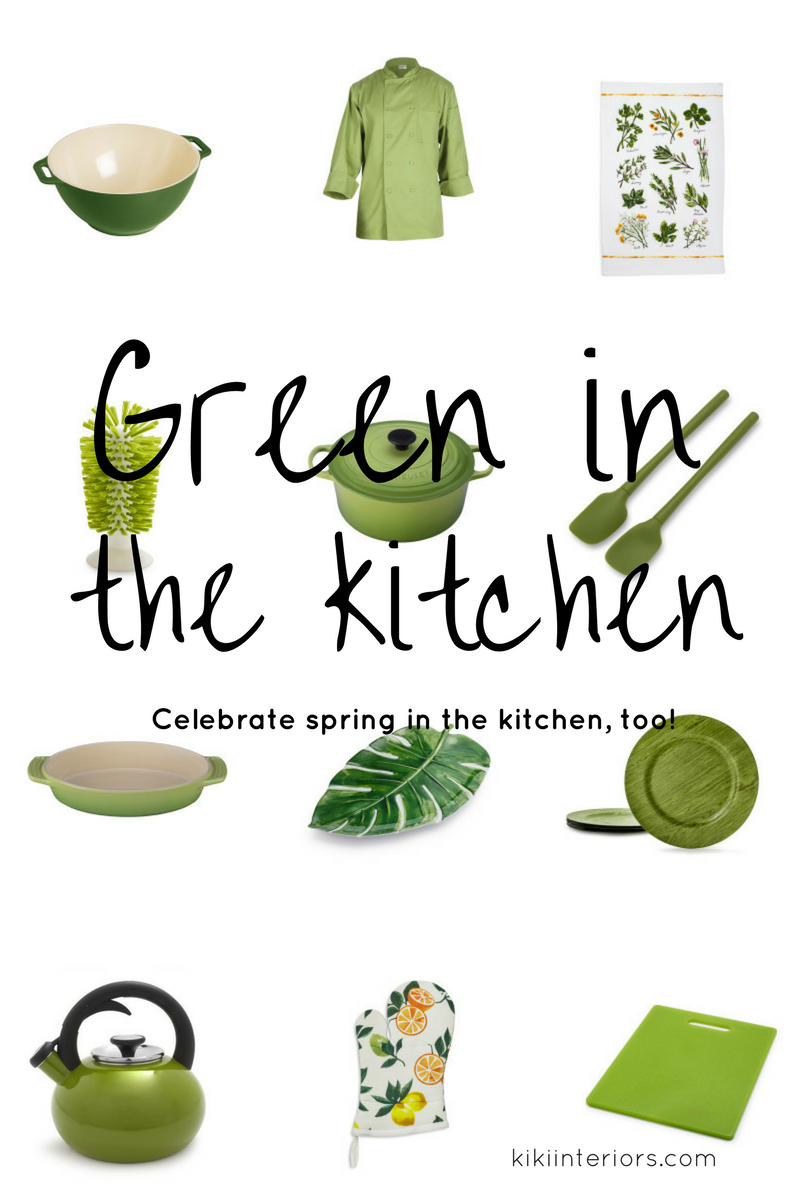 We love to work with the colour green and decorating the kitchen shouldn't be over looked.  Green in the kitchen is easy, fresh and fun! Now that spring is here – we are starting to see green everywhere…the green grass is starting to turn, the green buds on the trees and green from the plants and flowers are starting to sprout. We love that green works is so many colour combinations and with so many styles.
Here are some of our favourite ways to use green in the kitchen:
A tea kettle is a great way to add a splash of colour in a kitchen.  This is one of our go-to pieces when we are staging a home.
Tea towels are a great (and functional) piece in any kitchen.  We love ones with a little colour!
A set of colourful chargers add a punch to your table setting- we love these simple green ones – great for spring and summer!
Practical items for the kitchen can also be colourful and fun – these spatulas, cutting board and scrub brush add some colour to boring kitchen tasks.
Cute oven mitts in a fresh print with a splash of green add some brightness to the kitchen.  If you are working away in the kitchen you may as well look cute doing it!
Want to look like a pro in your home kitchen? Try a green chef's coat – you won't go unnoticed!
Spring is all about the leaves and leaves are green! This green leaf platter is a great serving piece for spring and summer events!
I love colourful mixing bowls and serving bowls!  Using my green one today to bake a lemon cake – the bright and fresh colours were amazing to look at! I also love mine because it is so easy to clean after use!
When it comes to baking and cooking we all know the importance of presentation – so why not prepare beautiful meals in beautiful stoneware? Like this French Oven or Baker
You can't go wrong with a little green in the kitchen,