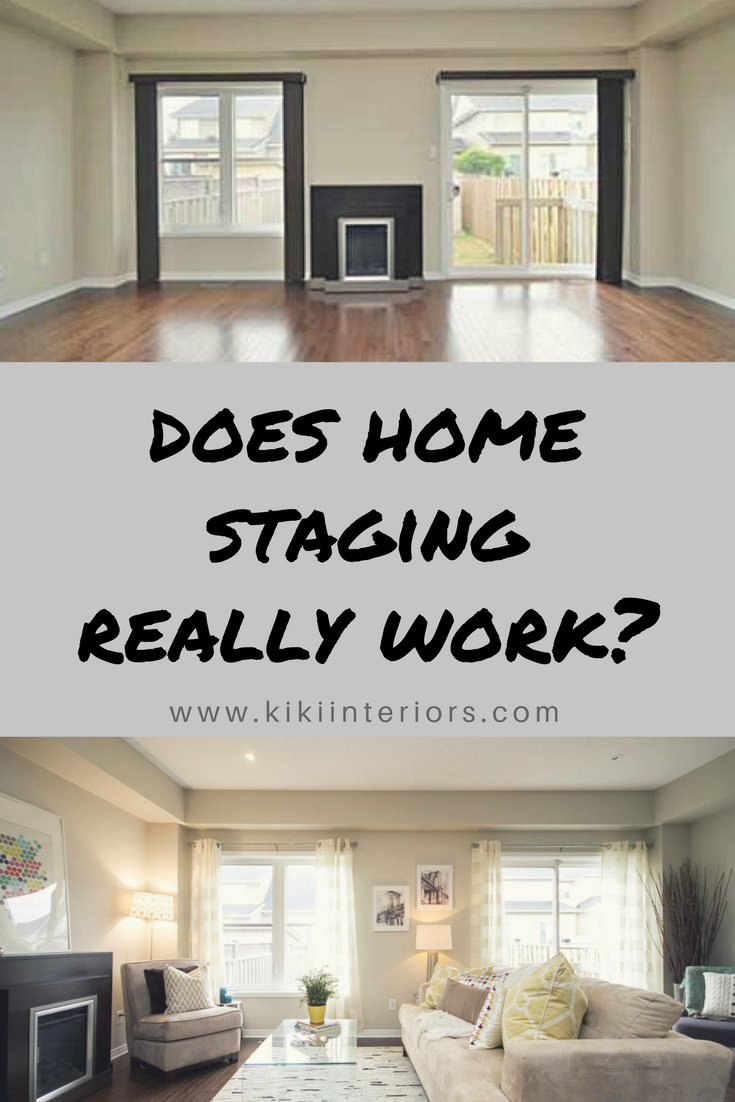 Home Staging ….we have all seen it on the TV shows and heard our realtor friends and family talk about home staging!
What is Home Staging and does it really work?
I've been staging homes for for about 10 years, and yes – it really does work!
The concept seems strange and I still have people ask for clarification…."So the furniture that was there is removed and then you move furniture back in?" In a nutshell, yes but there is much more involved than just furniture. Cleaning, de-cluttering, repairs, updates, de-personalizing and then the staging / styling – it's all a part of the process!
Home Staging is all about the present the home in it's best light and setting the scene to attract the buyer. Home staging involves a number of steps to get the property looking it's best and every house has different needs. Many think that a vacant home allows buyers to see how big the space is, how they can use it and visualize how they want to paint, furnish etc…
When we stage homes, we also get some ideas from the realtor about the buying demographic and target group – this really help us find a focus for the decor style, colours and also staging the property with the lifestyle in mind.  A young newlywed couple would live differently that a busy family of 4 or 5! So we take that into consideration.
But that's not the case – an empty home looks cold and uninviting plus it doesn't present well in photographs, which is how most buyers will see their home for the first time.  Buying a home is an emotional experience – the buyers connect with the home and an empty one is just that, empty and you can't connect with empty!
So this is what Home Staging does…
Home Staging is about setting the scene so buyers can visualize living in their dream home.  They can see how you can live in the space. The furniture and styling add warmth and help plant ideas of lifestyle and usability of the space and layout. The proper scale and amount of furniture balance out the room and allow buyers to 'mentally move-in'. 
Can you believe this is the same room?
This before and after is incredible (photos above).  We did a few things to make this home look it's best.  For starters, take a look at the drapery.  That heavy espresso brown panel drapery was replaced with some much lighter – look at the difference in the room – it looks open, bright and airy!  We also moved the fireplace (it was an electrical fireplace, so it could be moved). The original placement made the room look long and skinny (almost like a hallway). By moving the fireplace, we have created two spaces.  A living room with fireplace and potentially a wall mount TV and the other end of the room, we staged as a seating area for reading and a small work space.We were careful to pick furniture that was of the correct size and scale. We kept the tones light and airy (see that pop of yellow, a staging favourite).  We have some simple accessories that really complete the look and add warmth to the space.  The art, pillows, plant…they all make a difference in the presentation.
Home staging sets you apart from the rest.
When your home looks good , buyers (and their agents) take notice! We had a recent property sell in under a week for more than asking (and they weren't in a multiple offer situation).  The agent said to the buyers "give them an offer they can't refuse, or you will lose this house". So they did! Good looking properties look great in photos, these photos are seeing online, then the showings start to happen, lots of showing traffic means good (some times many) strong offers and next thing you know – your house is sold.
Home staging is a MUST – Home staging gets properties SOLD!