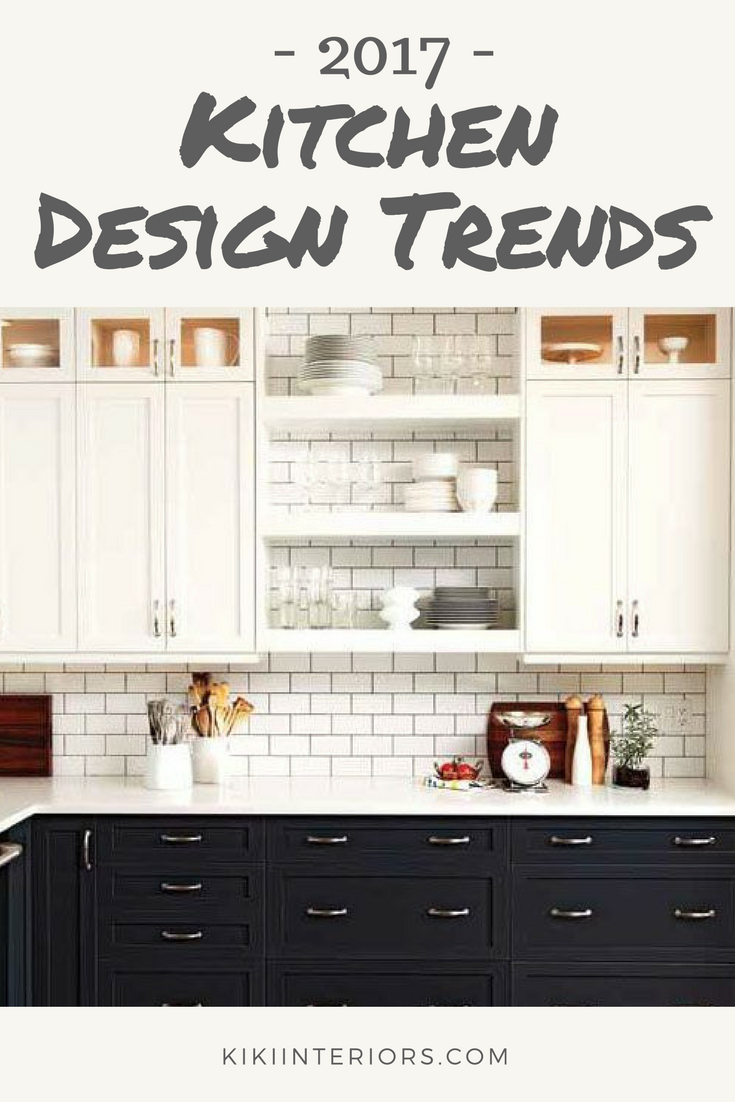 The kitchen is the heart of the home and whether you are a gourmet or not, you want your kitchen to look stunning! If a kitchen renovation is on your to-do list, take note of the hot kitchen design trends for 2017.
Grey in the Kitchen:
Although white is still a top choice for home owners, grey is a close (very close 2nd).  We started seeing this trend about 3 years ago in the trade shows but now the grey kitchen cabinet is much more mainstream. If you are a bit hesitant, opt for a soft and warm grey tone for the kitchen cabinets. It's still timeless and neutral but it's a great alternative to white.
Farmhouse kitchen sink:
Also known as an apron sink.  This sink style has been around for a long time but it has really gained popularity with the whole revival of the 'farmhouse look' trend.  This style of sink comes in all sizes and configurations (single bowl, double bowl…) but it comes in other colours and materials.  Plus you don't have to necessarily have the farmhouse look in your kitchen – you can have a clean contemporary style or an industrial style kitchen – it is a very transitional sink.
Tuxedo kitchen:
We are seeing a lot of tuxedo kitchens in 2017.  Not familiar with this term? A tuxedo kitchen is a kitchen with dark lower cabinets and kitchen island cabinets (in a black like a tuxedo but we are seeing lots of variations like navy, dark stained wood and charcoal grey) and white upper cabinets.  This adds some visual interest to a kitchen and in our opinion looks best in larger kitchens. 
Bold Kitchen Light Fixtures:
Statement lighting is everywhere and we mean in every room in the house and the kitchen is no exception.  We are seeing lots of larger and more interesting light fixtures in the kitchen – over the island, the eat-in area and in the kitchen itself.  There are so many styles of lighting – so there is something for everyone! Get creative with colour, size and shape – we love this classic lantern pendant in pink and gold – so unique!
Mixing kitchen counter tops:
We are seeing clients get more and more adventurous when it comes to making selections in the kitchen.  It can be tough to narrow down your selections – so don't! Opt to have 2 different counter tops in your kitchen – 2 different stones, a stone one and concrete one, a stone and wood one….the combinations are endless.  This is a great way to really make your personality shine in your kitchen!
Navy in the kitchen:
Navy in the kitchen right now is where grey was about 3-4 years ago – just emerging – but we are seeing it more and more in magazines and TV shows, so it is only a matter of time until the navy kitchen is the new grey kitchen! We love it mixed with brass or gold hardware (which is also starting to catch on).  A navy kitchen looks incredible with just a simple shaker style door – because the colour is so deep and rich you really don't need a lot of detail. 
Interesting Kitchen Back splash:
For a while it was all about the glass tile mosaic back splash and then more recently the subway tile but now we are seeing all different shapes and colours – even patterned tiles! We are definitely seeing people take more 'risks' this year when it comes to tile.  Whether it is a herringbone layout, a hexagon shape or a pattern tile – back splashes are a lot more interesting this year! (We are seeing this trend in bathrooms, too)
What do you think of these kitchen design trends ?

Tags:
best kitchen updates
,
gray kitchen
,
interior decorating ideas
,
interior design tips
,
kitchen backsplash
,
kitchen counter tops
,
kitchen design
,
kitchen design advice
,
kitchen design kitchen design ideas
,
kitchen design tips
,
kitchen design trends
,
kitchen ideas
,
kitchen trends 2017
,
navy kitchen
,
trends 2017
,
tuxedo kitchen