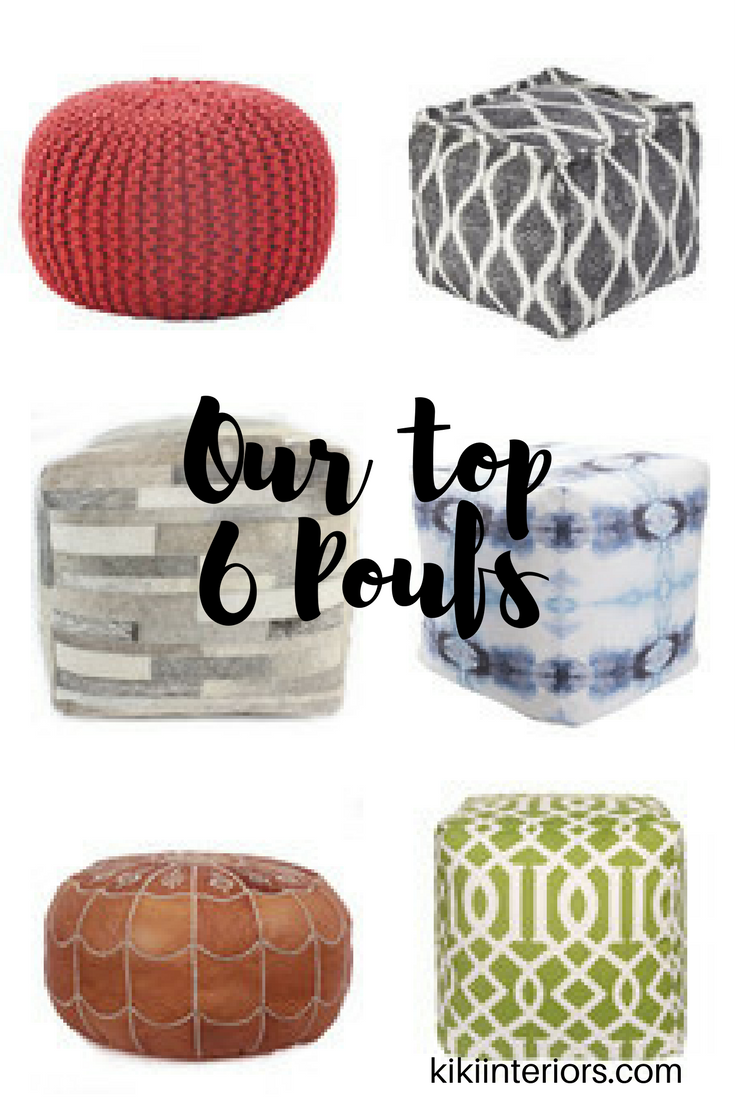 Poufs are a great alternative seating option and we have been using them for years now in both home staging and in interior decorating.  Poufs are wonderful because they are a portable seating option and they don't take up a lot of space plus they can play double -duty as a foot stool.  We have used poufs in bedrooms, living room and even playrooms – kids love them!
We also love the options you have with poufs in terms of colour, texture and even pattern. There is a pouf for every decor style.
Here are some of our favourite poufs:
This is one we have used a lot and in many different colours (Kristi actually has one in green in her boys' bedroom and one in tan in her family room). This pouf adds a great pop of colour and texture to any room!
This style of pouf is a different shape, it's a cube and it adds some pattern to the mix along with a bit of colour and texture.  These poufs (like all of the poufs) are so versatile – they work with all styles and in all rooms, move them around if you need some extra seating!

The Leather Ottoman Pouf:
This style of pouf has a laid-back boho feel. like the others this style comes in many different colours but the details and the embroidery give it a bohemian vibe.  We love this one in tan – neutrals are so versatile and this style also serves really well as a foot stool.

If you don't love colour – this might be more your speed! This patchwork cowhide pouf in soft greys is a great addition for any room.  Each of these poufs is completely unique (just one of the beauties of working with nature) and they add a certain luxury to a space.

This look is a big trend right now – the blue and white 'tie-dye' printed fabric called Shibori adds a laid-back and almost beachy feel to a room.  The pattern and colour pouf add some visual interest to any room.

Summer is coming so start thinking outdoor spaces! Adding some pouf seating outside is a great and easy way to make guests feel more comfortable and it really adds a fresh pop of colour and print to your outdoor space! Like all of the other poufs you have a ton of selection in colour and pattern!

Poufs are a great way to add some seating (or foot stools) to a room – we love them for colour, pattern and texture – we often use them in pairs but they are great single too!
Poufs are one of our favourite pieces to bring into any room!

Follow my blog with Bloglovin
Tags:
accent furniture
,
condo furniture
,
condo furniture ideas
,
easy ideas for extra seating
,
extra seating
,
home decor advice
,
home decor tips
,
interior decorating ideas for the living room
,
interior decorating tips
,
kids seating
,
living room home decor ideas
,
pouf seating
,
pouf trend
,
seating accent chairs
,
seating for small spaces
,
seating ideas
,
what is a pouf