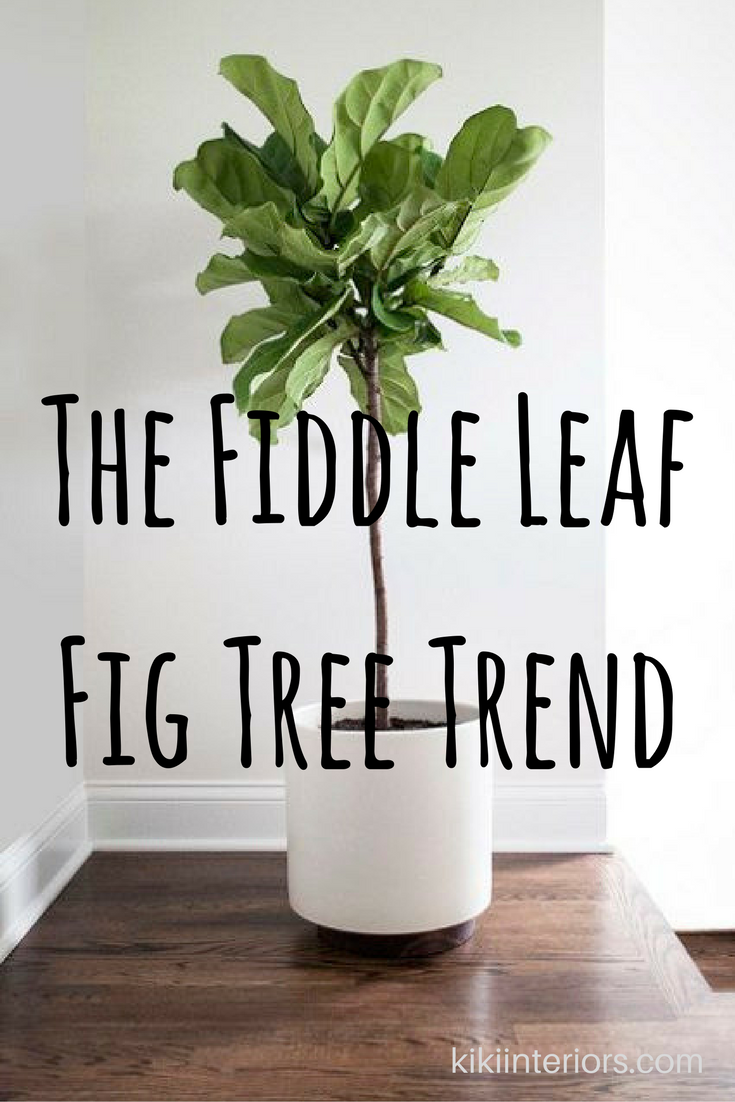 Have you noticed these Fiddle Leaf Fig Trees? They are everywhere! check out Instagram, Pinterest, Design magazines and home decor TV shows – this tree is trending!
So What is a Fiddle Leaf Fig?
This tree is known as a flowering tree in a tropical rain forest setting – but they have since been adopted as an indoor houseplant and that version doesn't produce fruit (figs). As a house plant, these beauties do best in temperate climates. It's called a 'fiddle leaf' because of it's broad leaves that are shaped like a lyre or a fiddle.
How to care for your Fiddle Leaf fig tree?
Like all plants this variety needs watering but only water it once the soil is dry.  How often it needs water depends on the climate and surroundings. So keep checking your soil and water when dry.  The fiddle leaf fig needs light but not direct sunlight. Their broad leaves can get very dusty so yes, dust your plant with a soft cloth to keep it clean!
Why are fiddle leaf fig trees so popular right now?
There doesn't seem to be a real reason for why this plant has grown in popularity recently.  These plants have been around for a long time but they are really emerging in home decor lately. Like other home decor trends we see these in flowers and plants, too.  I remember when Gerber Daisies were all the rage! This plant has a great sculptural presence, the green is very vibrant and it works well with the neutral, minimal and Scandinavian styles that are really popular right now.  It adds a great texture and visual elements and adds a wonderful contrast with the lighter tone walls e are seeing a lot of right now.

How and where to decorate with the Fiddle Leaf Fig Tree?
This plant is a great space filler for a corner that needs a little something.  The beautiful shade of green and the oversized leaves add a visual interest to any room.  These look great in living rooms and bedrooms.  Try using a beautiful pot or contain to keep your fiddle leaf fig tree, these woven baskets look great but so do clean looking clay pots.  It dresses it up a bit more than plastic pot you find in the garden store.
Where can you purchase a Fiddle Leaf Fig Tree?
You might be fortunate enough to have access to these lovely plants in a local nursery or home garden shop but we have also found some online options where they can be shipped directly to your home.
This is a great option from Amazon – it measures 3 – 3.5′ high and yes, it's real!
Another great affordable option from Wayfair – a favourite home decor shopping destination – because they really do have everything!
This option is another economical choice, you have height options – and you can select your planter style too!
What do you think of this tropical and trending houseplant?
Tags:
2017 home decor trends
,
best houseplants
,
decorating with houseplants
,
fiddle leaf
,
fiddle leaf fig plant
,
fiddle leaf fig tree
,
fiddle leaf fig trend
,
fiddle leaf plant trend
,
home decor ideas
,
home decor tips
,
houseplant
,
houseplant trend
,
houseplants
,
indoor plants
,
potted plants
,
tropical plants