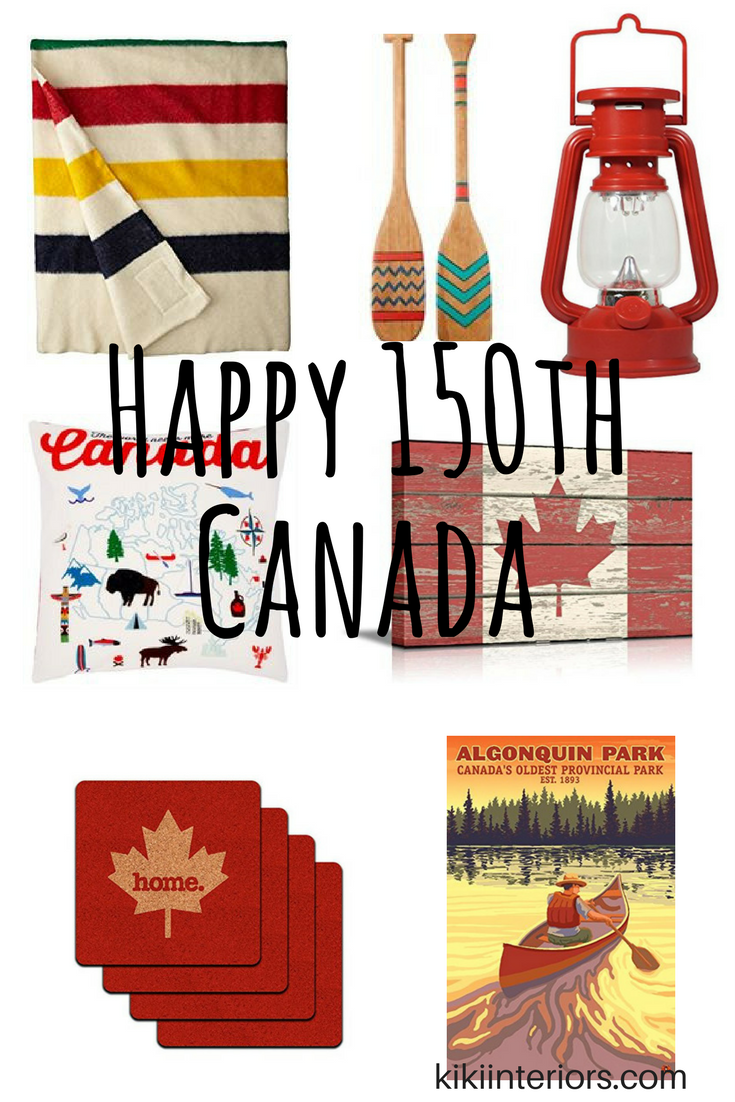 Happy 150th Birthday, Canada!
When it comes to major celebrations – of course we like to celebrate with some decor…
With Canada's 150th Birthday right around the corner – we have found so many amazing pieces to celebrate this milestone. These are perfect for the home or a cottage, cabin, chalet or lake house…
Favourite Canadian Home Decor :
The Hudson Bay blanket is a classic – this blanket is iconic Canada in wool and the multi-stripes – this has a historical element too that we don't see often in home decor.  This would look great on a chair or sofa in a home or cottage.
Paddle art set is a beautiful decorative paddle perfect for a wall hanging – it might be a bit cliche to think of the outdoors when it comes to Canada but we do have beautiful and vast land with incredible scenery and the lakes and rivers are a big part of that natural beauty.
'More Canada' Pillow Cover has a bit of a retro feel. We love the colours and the classic Canadian images on this pillow.  It's a visual across Canada tour all on one pillow.
Canadian Flag Canvas  you have to have a Canadian flag on Canada day – we love this stretched canvas with a painted barn wood detail – it adds an element of texture to any room.
Canada Maple Leaf Coaster Set    Try adding some small details like this coaster set to your decor – it's practical and patriotic!
Canada Loves Hockey Poster….  Show your funny side and your love with this cute poster – perfect for a home bar or family room!
Canada Vintage Posters   We have seen a bunch of these vintage posters and we just love them! they add an authentic quality to any room.  You can find these for the whole country, specific areas like Algonquin Park, cities and provinces.

Canadian Flag Lumbar Pillow  The look of this lumbar pillow as a bit of a country or farmhouse style.  The muted tones and the mix of textures and print give this piece some character – it would be perfect on an accent chair or bed at a cottage or chalet.
Decor is a great way to celebrate any holiday and you can celebrate this great country any day of the year….
Happy 150th, Canada!