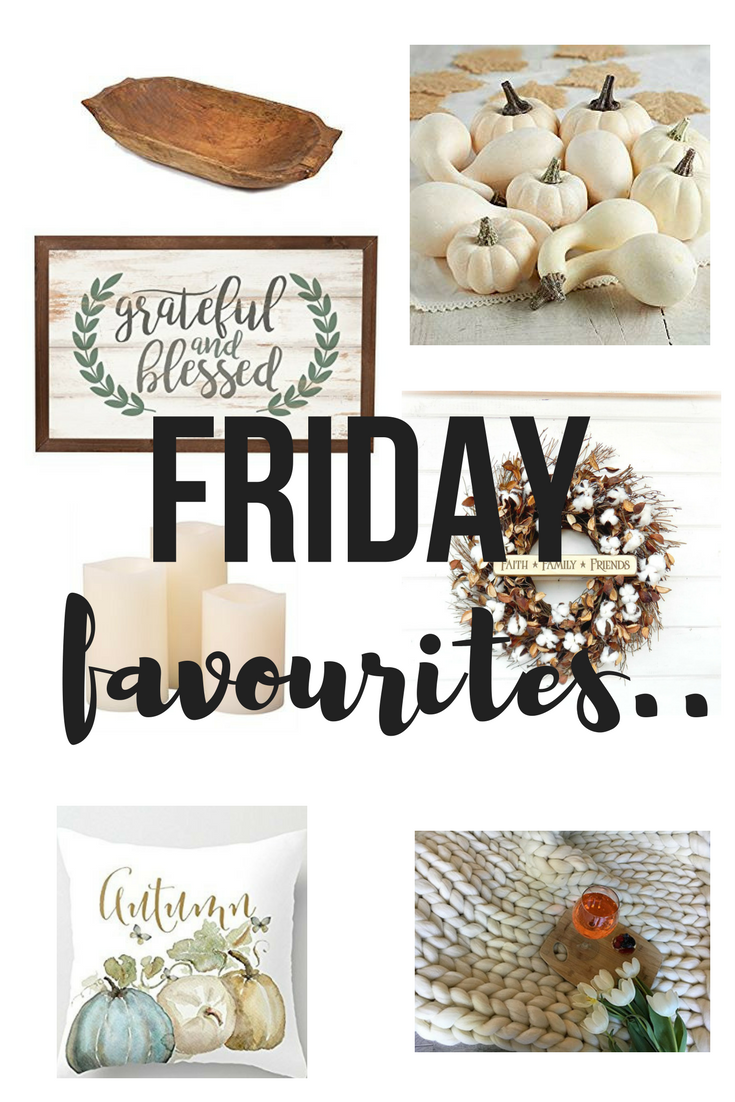 We know that summer is still here and we are soaking up the fun in the sun but fall isn't that far away and of course, we love fall decor! The fall is all about adding nature elements to your space and getting cozy with soft textures – we love the harvest theme and of course those stunning fall tones.
Photo credit: Craftberry Bush
So in preparation for one of our favourite seasons we have rounded up some of our favourite fall decor finds.
Fall decor finds:
A definite fall decor must are some pumpkins…we are really loving the look of white pumpkins – they work with a more modern or contemporary style home or anyone who just doesn't want to dive right into the orange, red and golden tones of the season.  These white pumpkins look great in a simple bowl, add them to a tablescape or style them on a tray or coffee table.
Pillows are a fun a simple way to spruce up your decor and celebrate the season or holiday.  again we are loving these unconventional autumn tones like the warm whites and even light blue tones.  This pillow is a wonderful addition – we love it for an entry vignette.
We love curling up with a cup of coffee or a glass of wine on those crisp fall days.  We don't turn the heat on just yet so we wrap up in a chunky knit blanket – this chunky knit blanket is perfect for a bedroom or living room.  The chunky texture adds a lot of character to any space.
We love inspirational words and quotes in our homes, on pillows or wall decor.  This 'grateful and blessed' sign is a great reminder for the everyday but it fits perfectly with the Thanksgiving holiday.
Candle light is a great way to add ambience to your space – whether it is a bubble bath, a romantic dinner or just relaxing at home with a movie or book – candles really add soft and subtle lighting to the room.  We love these flameless LED candles – they are very authentic looking and we love that they are safe.
Fall decor is really about embracing the beauty of nature.  Bringing in the tones and textures that we see outside and bringing them inside – this wood dough bowl has a rustic look and it's perfect for a kitchen island – fill it with seasonal fruit like apples for a simple and healthy snack.
A fall wreath is a must and we love the farmhouse look of this wreath – the mix of neutral tone sand textures is just beautiful and is quite transitional  in style plus this wreath comes with some personalizing options like scent and the message on the sign!
Fall is such a beautiful time of year to celebrate and when it comes to fall decor finds there are so many and we will likely find some more fall decor inspiration through our shopping excursions but for now these are our fall favourites…

Tags:
autumn decor
,
fall decor
,
fall decor finds
,
fall decor for the home
,
fall decor musts
,
fall decor tips
,
Fall decorating
,
fall decorating ideas
,
fall design trends
,
fall interior decorating
,
fall season decorating
,
holiday home decor
,
holiday home decor ideas
,
home decor
,
home decor ideas
,
seasonal home decor
,
seasonal home decorating ideas