TRENDS
Milllennial Pink Inspiration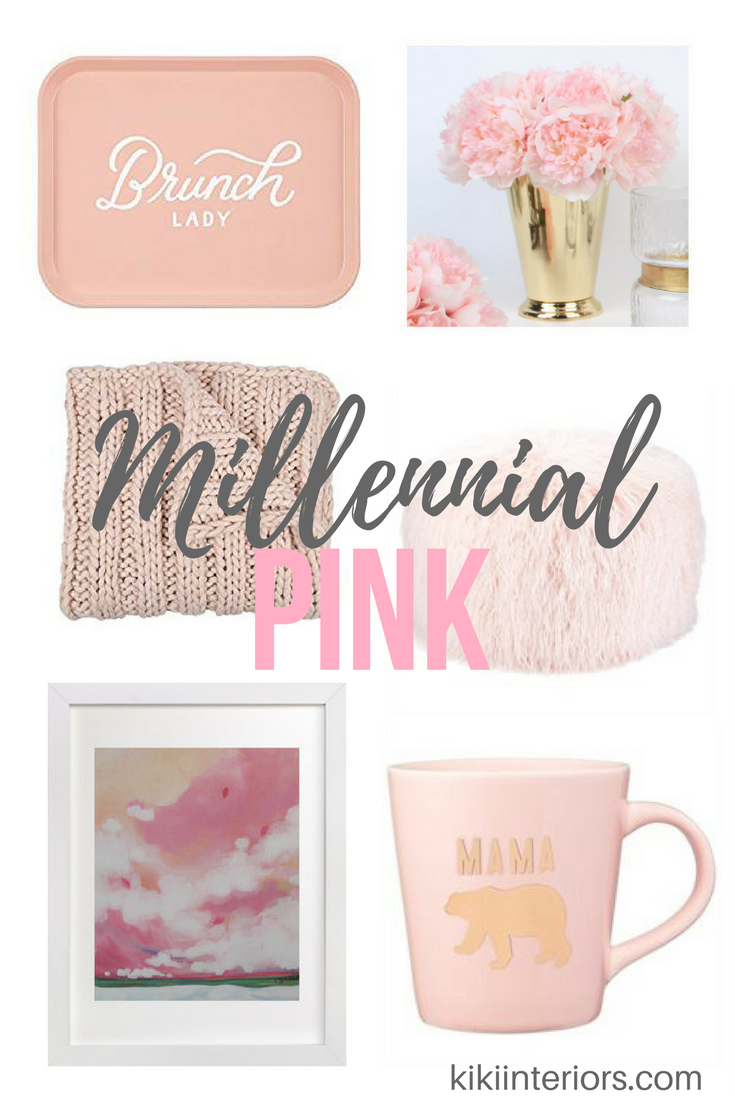 Millennial Pink – have you heard this term? If you haven't heard of it you have definitely noticed it.  Millennial Pink has definitely made a big splash this year and even though we saw 'Rose Quartz' crowned the 'colour of the year' in 2016 – it took some time for the hue to really make an impact.  This colour really seems to go hand-in-hand with the popularity of unicorns, candy, donuts, mermaids, fun prints, inspirational quotes and more…it has a whimsical nature about it!
Photo credit: studiodiy.com
Millennial Pink is everywhere….
you have seen this shade in fashion, beauty, hair and definitely in home decor.  Whether it's accessories, small DIY furniture projects or wall colour – Millennial Pink has really made a statement this year. Millennial Pink is also known as Scandi-Pink and Tumblr Pink.  Millenial Pink isn't a specific tone of this light candy inspired pink but it is a series of pinks including Pale Dogwood, Rose Quartz and Candy Pink…
Photo credit: Pantone.com
Millennial Pink Home decor Inspiration
We love the softness and the femininity of this shade of pink and there are so many fresh and modern approaches to use this home decor.  We love how this colour works well with so many styles and colours. Here are some of our favourite rooms in Millennial Pink.
Millennial Pink in the Living Room
Photo credit: mydomaine.com
We love the girly touch Millennial pink adds to this living room corner – the modern and clean lines of the chair are a nice balance to the chunky knit blanket and velvet accent pillow. The beach theme art also picks up on this pink hue – but it is so subtle and soft that it is not over powering.
Photo credit: thezoereport.com
Another living room image embracing the millennial pink trend – we see another chunky knit blanket and a faux fur pillow (we did see also of texture play this year, too) When you are working with a statement colour like pink you don't need a lot of other accent pieces or colours in the space so this does play nicely with the Scandinavian and almost minimalist tendency we saw this year as well.
Photo credit : Crush Cul de Sac
You do not have to be a millennial to hop onto this trend. We love the way this more traditional living room looks so fresh with some candy pink pillows, throw and some fresh flowers.  The furniture has a classic and traditional feel but the pop of colour brings new life to this room!
Millennial Pink in the Bedroom
Photo credit: kellygolightly.com
If pink paint seems too much for you or too solid, maybe a pink wallpaper is the right balance for you. This bedroom is more of less neutral but add that pink 'marble-like' wallpaper and what a statement!
Photo credit: Favim.com
This modern bedroom has a great masculine and feminine balance with the clean lines, grey tones and wood texture paired with the copper pendant lights, soft pink and the fur – this bedroom is a mix of many of the trends we saw in 2017.
Millennial Pink Home Office
Photo credit : Polished Habitat
Millennial pink home offices were the rooms where we probably saw the most pink….This room has a great mix of pink tones – the pillow, the pouf, the area rug and some decor accessories –
Millennial Pink – Get the Look in your home
This tray is perfect for serving Brunch favourites like mimosas or avocado toast…
Chunky blankets are a great addition to a living room or bedroom – they are so cozy to curl up with and they add great texture to the space too! This chunky knit blanket is the perfect shade of millennial pink.
Blend a bunch of hot trends all into one piece like this millennial pink fur pouf – this would be a fun accent piece for a bedroom, home office or a nursery.
Add some pink florals to your home office or bathroom as a subtle nod to the trend without diving in completely. This pink peony arrangement would add a fresh and fun touch to any room!
An art print is a great way to add that splash of pink to your space – this piece is modern and soft at the same time and the tone of pink is so fresh with the white frame.
Sometimes all you need is a little splash of colour to make your space pop! This pink and gold mug is a great way to start the day!
Love this colour? So do we and we love all of the different ways to add it to your decor,