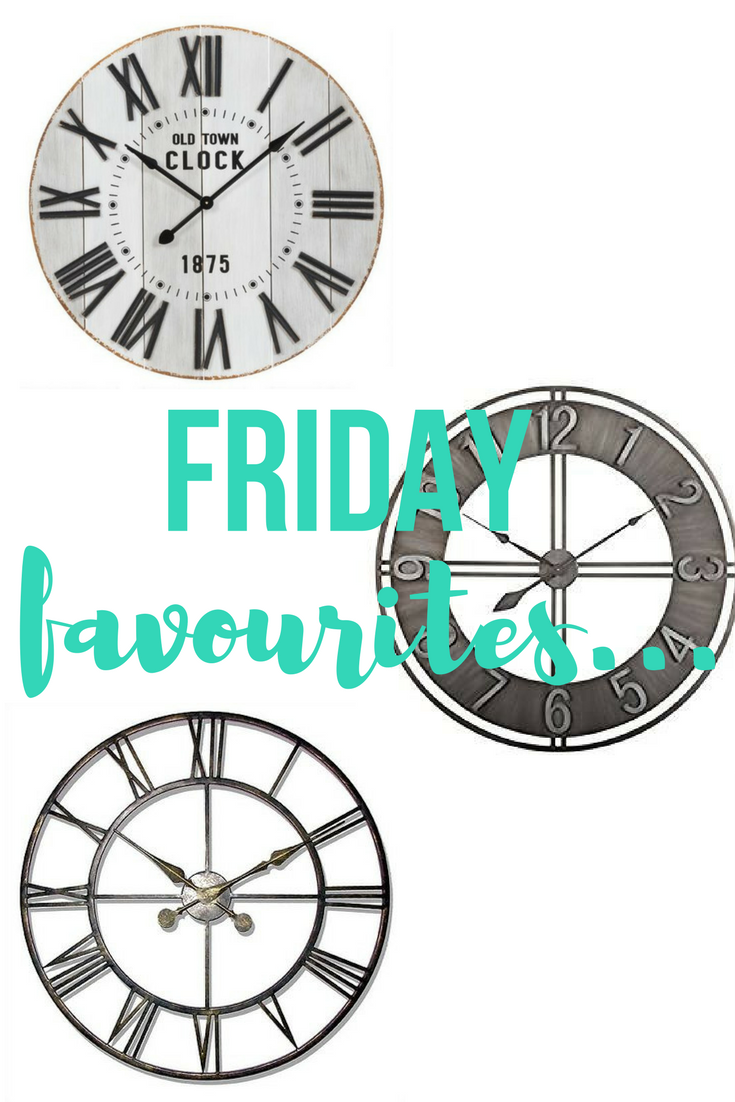 Friday Favourites this week ….Large clocks!  They are one of our favourite ways to add wall decor to a space.  Large Wall mounted clocks are a great way to fill up an empty wall space but they are also very useful! You can hang these clocks on their own or even add one to a gallery wall. There are so many styles of wall clocks, so you will be sure to find one that suits your style.
Decorating with Large Clocks
Here are some great inspiration images for how you can decorate with an over sized clock.
Photo credit : Magnolia Market
This area is perfect for serving drinks and snacks in this 'bunk room'.  The aged finish of the large clock adds character to this space and the light contrast with the wall colour is soothing and fresh.
Photo credit : Kirkland's
This oversized roman numeral wall clock has a touch of a traditional feel but pair with with more casual pieces like the natural wood console table at this entry and some farmhouse textures – it looks more relaxed plus have the clock leaning (instead of wall mounting it) makes it look less formal. Clocks at an entry is beautiful but also practical!
This is a model townhome we styled just recently… and we used a large farmhouse style clock for above the fireplace.  We love the galvanized metal trim and the rustic rope (plus it was easy to hang).  Its fills up this fireplace wall space and the round shape adds some softness to the room as well.
Shop large Clocks
We have rounded up some of our favourite large clocks from various stores that we love for the home
The Dresden Wall Clock – available at Urban Barn – is one of our favourites! We love the painted wood plank detail, the antique trim finish and the roman numerals add another aged feel to this piece.
This Industrial style Wall clock is available on Amazon and the simplicity of this clock is a perfect piece to add to a space with some loft inspiration with an industrial look – this would look great mounted on a brick wall.
This Iron Tower Large Wall Clock from Wayfair would be a great additional to a traditional style space or even a farmhouse look.  We love the simplicity of this piece and in the oversized scale it adds great presence to any room.
We love design elements that are beautiful but also practical….do you have a clock in your space? Maybe it's time to add one ….

Tags:
big clock
,
big clocks
,
decorating with clocks
,
decorating with large clocks
,
gallery wall ideas
,
gallery wall inspiration
,
gallery walls
,
home decor inspiration
,
home decor trends
,
home design ideas
,
home styling ideas
,
home styling inspiration
,
interior design ideas
,
interior design inspiration
,
large clock
,
large clocks
,
oversized clocks
,
wall clocks
,
wall decor ideas
,
wall decor inspiration