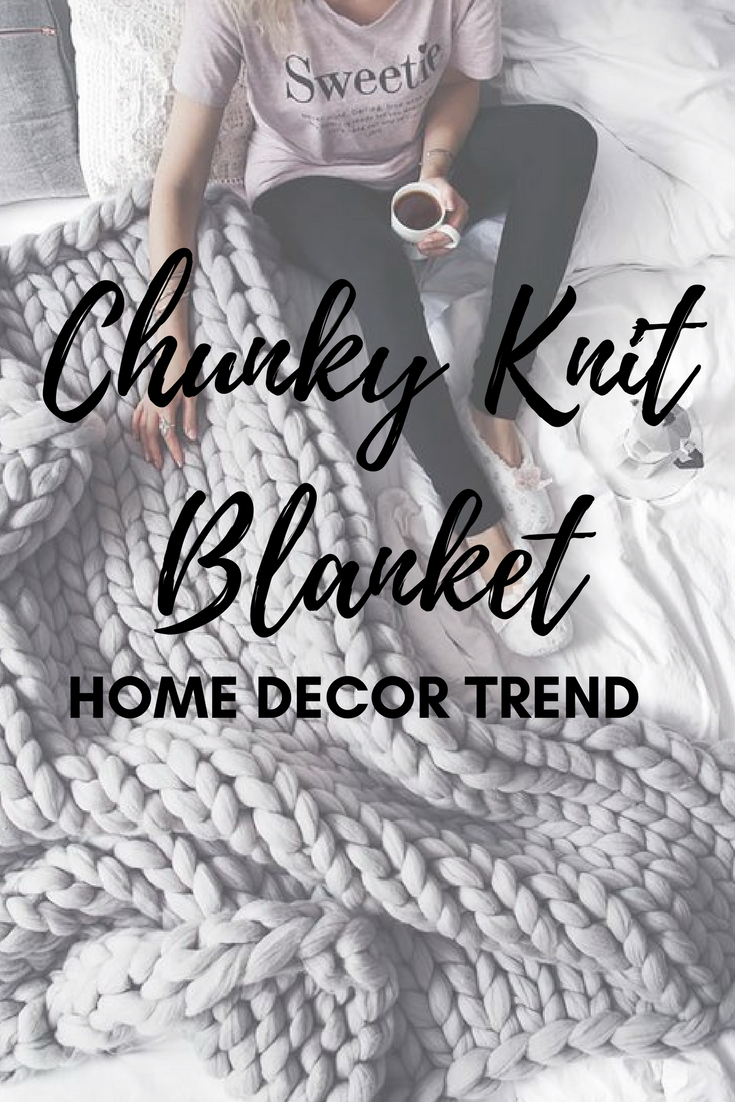 I have to confess that I am in love! I'm in love with chunky knit blankets … I have loved them since they really started to emerge in current home decor.  I love being cozy and snuggling up with a blanket (as I am writing this post I have one of my many throw blankets on my lap …)
Photo credit : countryliving.com
Do you love chunky knit blankets?
I know in terms of trends I am a 'little late to the party' but to be honest I don't consider knit anything to be a trend – I think there will also be a place for these fabulous knitted creations but yes, they are having a bit of a moment right now.
I have to share some of my favourite home decor looks with chunky blankets
Chunky Blankets in the Living room
Photo credit: My Modern Met
This white living room with black and grey accent is so clean and crisp – and this over sized chunky blanket adds so much texture to the room.
Photo credit : All Free Knitting
This big stitch oatmeal chunky knit blanket draped over this sofa is perfect for cuddling and snuggling plus it makes this contemporary tufted sofa look softer.
Photo credit : My Domaine
The chunk knit blanket was seen a lot this year in millennial pink – two trends working hand in hand.  The corner of this living room space is so fresh and feminine in millennial pink, clean lines and the over sized knitted throw is balanced and beautiful!
Chunky Blankets in the Bedroom
Photo credit: Etsy.com
There's no better to place to snuggle than in your bedroom – add a chunky knitted blanket and you may never want to get out of bed again!
Photo credit: Decoratio
Again that classic combination of soft grey and millennial pink – so soft and soothing especially in a bedroom.
Where can you get a chunky knit blanket?
If you are crafty – there are some great arm knitting tutorials that show you how to make such a cozy and chunky knitted throw blanket.  This is one tutorial that I found easy to follow – here
I'm a knitter and my goal is to knit one of these myself – I found this step by step knitting tutorial for one of these chunky blankets on nourishandnestle.com – I can't wait to make my own!
Not crafty? That's OK…
You can purchase one!
Here are some of my favourites, found on amazon.com
This beautiful blue blanket is a stunning colour with this chunky knitted texture is available on Amazon.
This white handmade chunky blanket by wool + sea is stunning and available on amazon.
Do you these chunky knit blankets as much as I do??

Tags:
blankets
,
chunky blanket
,
chunky blankets
,
decorating with blankets
,
fall home decor
,
home decor ideas
,
home decor inspiration
,
home decor trends
,
home styling ideas
,
home styling inspiration
,
knitted blanket
,
knitted blankets
,
knitting
,
knitting ideas
,
trends in home decor
,
wool blanket