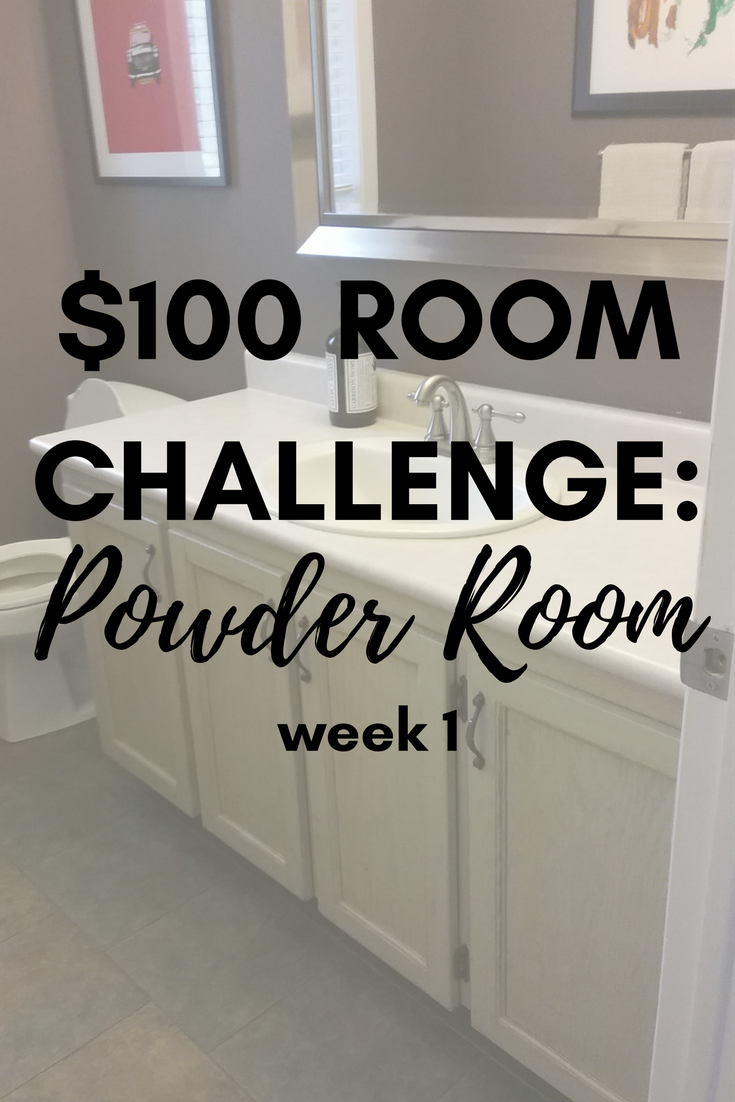 $100 Room challenge …
It's time for the $100 room challenge! This amazing and really fun challenge was started and is still hosted by Erin from LemonLavenderandLaundry.com. Basically here is what this challenge is all about – a bunch of bloggers and IGers take on one room in their home and in one month's time and with only $100 – they transform the room, tracking and sharing their progress week by week to share with you. Want to know more and check out some past projects? Click here
This is my second challenge – my first challenge was a homework station for my kids (which I needed to get done before they headed back to school).  This time around I have something different in mind….
Powder Room Makeover!
We moved into this house 6 years ago this month and when we moved in we had big plans for this dated and dark powder room but with 2 little ones and the third on the way – we had other priorities but now that 3 of my 4 kids are in school – I can take advantage of some free time during the day and at bedtime to transform this space.  Let's take a look…
So this is it! Our powder room – it has a lot of cabinet space and we have looked into a whole new vanity to give this room a fresh look but the cost is higher than we would like as it is a custom size.  The counters are laminate and the walls are a deep and dark brown.
My powder room plan
The whole room needs to look and feel fresh so I'm going to be using A LOT of paint.  I'm painting the walls, the cabinets and the counter top!
I want to create a bit of a farmhouse look in this room. The cabinets are kind of a 'nothing' colour so I'm going to paint them in a chalk paint – deciding between a warm white or a country grey – I have never used chalk paint before so I'm a bit nervous but I can do it!  Which ever colour I pick for the cabinets will determine my direction for the counter tops – I'm so excited to be able to paint these ugly laminate counters!! I also planning on replacing or painting the hardware of these cabinets.
I am also planning on changing out my art – I know someone in my family will have something hanging around in a basement or closet.
I have that long counter top – so I want to add some easy decor their too – like some greenery and perhaps some jars – I will be looking around the house to see what I can re-purpose.
Materials list for my Powder Room Makeover
paint for my walls (I have lots left over from painting my house)
chalk paint for my vanity
spray paint for the counter tops
art for the walls (checking my house and asking friends and family)
4 handles for the vanity doors
accessories like towels, decor pieces and greenery (will see if I can find some deals in stores or re-purpose from my home)
Powder Room inspiration
Photo credit : Jenna Sue Designs
I love this bathroom – the soft paint colour with the white plumbing fixtures keeps the space looks fresh and clean.  I also love the decorative accents like the reclaimed wood, the greenery and the white plush towels.
Photo credit : unknown
I love the warm grey colour of this cabinet and this is one of the colours that I am considering for my vanity. I also love how fresh and bright this bathroom is and the accessories are cute, too!
Be sure to check out the other $100 rooms in this challenge….
I'm really excited for this much needed transformation and of course this timeline is going to keep me on track – Wish me luck and as always feel free to offer me advice and your opinion!

Tags:
100 room challenge
,
2017 interior decorating
,
bathroom design ideas
,
bathroom makeover
,
bathroom makeover ideas
,
bathroom update
,
decor on a budget
,
design challenge
,
design ideas powder room
,
design on a budget
,
DIY challenge
,
home decor on a budget
,
interior decorating ideas
,
interior decorating inspiration
,
room challenge
,
room makeover