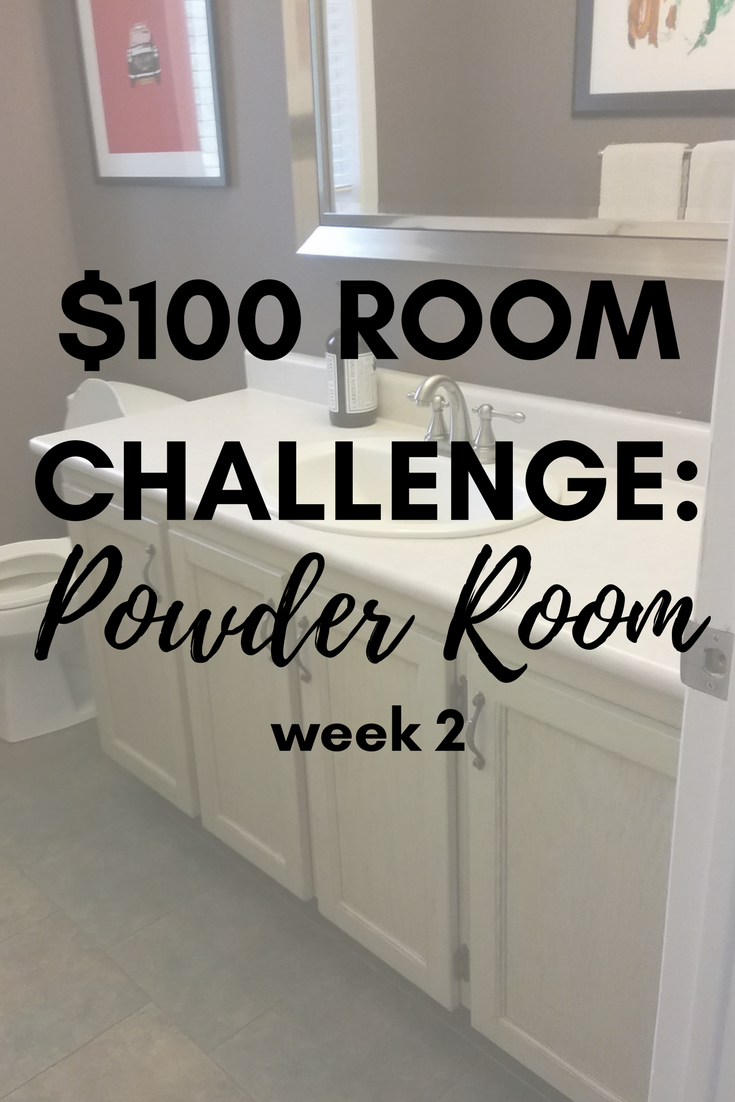 It is week 2 of this $100 room design challenge and let me tell you about the progress so far….
But first, let me bring you up to speed on the challenge –
I decided that my room that needed an update (that was over looked when we did some renos 6 years ago) is our powder room.  Our powder room like most other homes is a high traffic room with lots of visitors ranging from family to friends.  The room was dark brown with cabinets right out of the 1980's (when our home was built) and some laminate counters.  With this challenge I decided to really focus on giving this powder room a fresh look with a bit of a farmhouse look.
Take a look at week 1 , HERE
Design challenge decisions…
I knew that this room needed paint – and pretty much everywhere. With a budget of only $100 I didn't want to just spend that money on paint – this room needs so new decor accessories, maybe some towels too. Sticking to the budget and making a big change is really the premise of this design challenge. So for my wall colour –  I knew I had some paint from other painting projects in my house.  I had 2 cans of paint that were almost full – so I had to decide which of those two colours I liked best for the space.
Paint option #1 – Benjamin Moore 'HUSH' AF-95  This is a great warm neutral (my other 2 bathrooms are this colour, too) I'm not why I have almost a full can left but I did!
Paint option #2 – Benjamin Moore 'JUTE' AF-80 This is the colour seen in the main part of my home.  It's a soft neutral a bit on the cooler side compared to HUSH.
I compared both colours in the powder room and decided on HUSH.  I like the warmth and the JUTE hue was looking a bit green and I'm really trying to downplay the green tones in my floor tile.
Now that my colour was selected, I was ready to start painting except I could not find my paint brushes ANYWHERE….I looked all over my house – the basement, the garage etc…no luck. So I had to buy some new brushes, I really did not want to spend any money from my budget on brushes but I really had no choice. I lucked out and found this great little 'starter' kit at Wal-Mart.  maybe not the best quality of brushes but this handy little kit had 2 rollers (one large, one small), a brush, drop cloth and the tray for $8.00
Time to get started on the challenge….
Paint colour is picked and now it's time to start.  I wanted to get the paint colour on the walls first for a few reasons….1 – I wanted to see the colour on the walls since I was undecided on what colour I want to paint my vanity. 2 – The walls are the biggest painting job, so I wanted to get it out of the way.  3 – With the walls being so dark, I knew I needed to tackle those first as they would probably need the most paint and …4. I had the supplies on hand.
And so far, so good….
Already the difference is incredible…..
The first coat is done and I need another coat for sure but the difference is amazing.  The bathroom is SO much brighter and clean looking, too! My husband is loving it, too (usually he doesn't say much when it comes to home decor)
Check out the other room makeovers in this challenge….
Next up…..
2nd coat of paint (possibly a third but only if necessary).
Painting of the vanity is next – I'm thinking a charcoal chalk paint….
Painting the counter tops (so excited to see how that turns out!!)
I like my vanity light and mirror – so those will stay …
I have some 'new' art from my sister (she always has decor stuff lying around…)
If my budget allows, I'm hoping to find some greenery (faux) to add some freshness to the bathroom
The budget so far is not blown so hopefully I can stay on track with the workload and budget…fingers crossed!
Let me know what you think of the change in my powder room so far….

Tags:
100 room challenge
,
2017 interior decorating
,
bathroom design ideas
,
bathroom makeover
,
bathroom makeover ideas
,
bathroom update
,
decor on a budget
,
design challenge
,
design ideas powder room
,
design on a budget
,
DIY challenge
,
home decor on a budget
,
interior decorating ideas
,
interior decorating inspiration
,
room challenge
,
room makeover