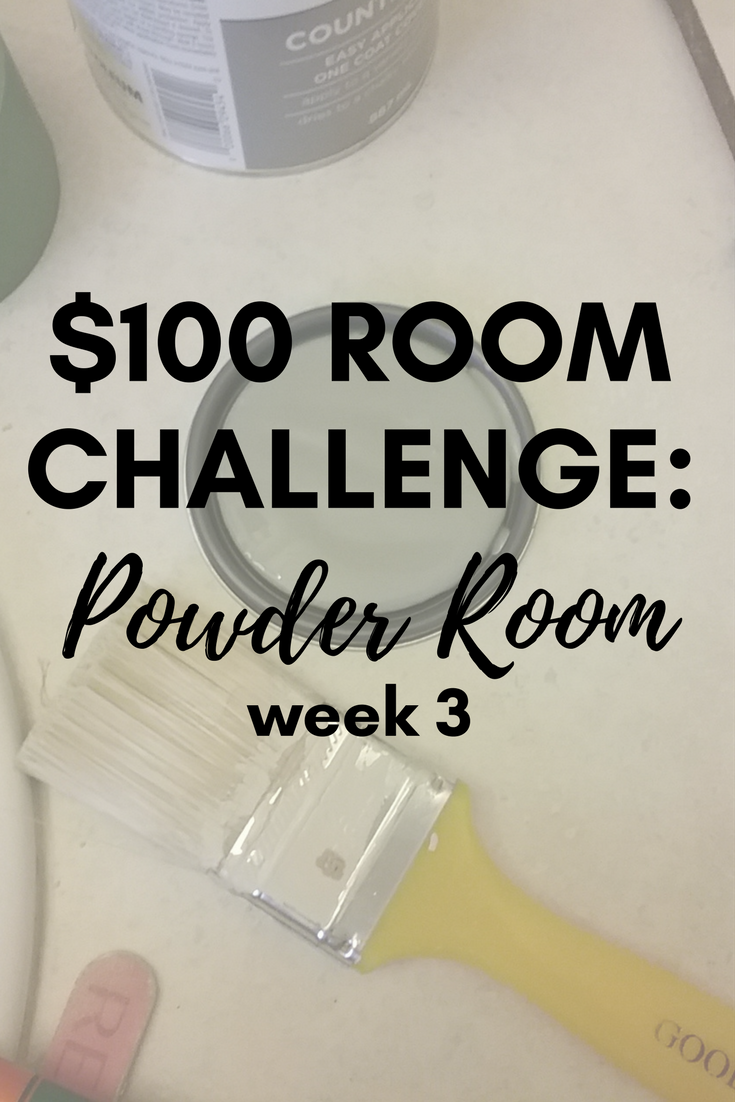 3 weeks into this round of the $100 room challenge and I'm happy with the progress in my powder room….I am still amazed by the power of paint and how it can completely transform any room….take a look at how my powder room looked 3 weeks ago…
This is my second round of this challenge and it is so much fun! I love how it keeps me on track with my budget and focused on getting the project finished.  It is also really inspiring to see what other bloggers and IGers are doing. Did you catch Erin on the Rachael Ray Show? So many great ideas from Erin and all the other bloggers in this challenge – it is really fun to see how others stretch their budget and creativity! I have to say that this round I have 'stepped it up' from my first challenge.
Powder Room progress ….
Last week, I tackled painting the walls of the powder room and I'm loving the difference this 'new' colour has made so far.  I used paint from another project in my home and the colour is making such a difference already! I had to paint a second coat of paint on the powder room walls and if I am being honest – I wasn't overly motivated to stay inside and paint.  Not because I'm not happy with how it is looking (quite the opposite) but….it seems like summer has finally arrived here and the weather outside is hot and sunny, so I really want to enjoy that while I can!
I did find that painting the second coat seemed to go much faster than the first coat – now maybe that is just me being motivated to get out and soak up some great weather!
I have also painted the vanity in this amazing shade of 'country grey' in a chalk paint! So exciting!! Originally, I planned on using a deeper charcoal tone for the vanity but my husband talked me into this mid-tone grey….I admit – this colour is a good choice – there is still contrast in the room and with this tone my new hardware pulls will stand out more!
I was going to recycle my handles (see below) but it was almost the same cost as buying new handles, so I purchased 4 new pulls instead.  The new ones are cleaner looking and still in the oil rubbed bronze finish (to match the existing hinges).  The new handles (although there are only 4) will give the vanity a fresh new look – I'm dying to install them!
'Powder Room project' confession time….
There have been a number of firsts for me on this project and I'm almost embarrassed to tell you but here goes….this my first time painting a room. ( Erin was completely honest about her DIY experience so I feel I should be, too.) Yep! I have painted my fireplace and a front door but never an entire room! I'm happy with how it turned out!
Something else I learned…how to patch the holes in my cabinets – this tutorial from Rainonatinroof.com is amazing and so simple….
Another first….I have never used chalk paint! I have to say I love chalk paint and I'm already trying to figure out what I can paint in chalk paint next! I was a bit nervous about it but it goes on so smoothly, the coverage is great and I love the super matte finish.  This has given my vanity new life! The image below shows off the new wall colour and 2 coats of chalk paint on the vanity – what do you think?
Yes, my doors are still attached to the 'box' of the vanity and I know the doors should be removed, painted and once complete, re-attached.  I didn't realize the condition of my vanity until I started painting it this weekend – it is about 35 years old and it's showing it's age….I was worried that I may not be able to re-attach them. So I kept them on and painting them that way – not ideal but I'm making it work.
Counter tops…
Many of you have asked and comments about painting my counter tops. I am really excited (and a bit nervous) about painting my counter tops.  The paint has been ordered – I had to order online since all of the local stores were SOLD OUT! The paint has not arrived yet and it is cutting it close! I checked my order and it is supposed to arrive between Sept 20 (that's today) and Oct 2…..so I may not get these counter tops painted before the 1 month timeline of this challenge is up….Well if I don't get it on time – I will be sure to have a new post dedicated to painting my counter tops!
And I have to admit with all the fresh paint in this space – my counter tops that were already looking dated and dull look even more so….
Powder room to-do list:
prep and paint the walls of the powder room
paint or purchase 4 new cabinet hardware pulls
start (and finish) painting the vanity in chalk paint
install new cabinet hardware
hang up window treatment
touch up paint
paint counter top (waiting patiently for paint to arrive….)
hang up mirror and art
style the space with towels and greenery
The remaining items on my to-do list seem lengthy but it's a lot of small jobs and I'm so excited to finish up this powder room, motivation will be driving me to get this done!
Budget so far….
4 new bar pulls for vanity ($4.79 each)
Chalk paint for vanity ($24.64 on sale!)
paint brush, roller and tray starter kit ($8.00)
counter top spray paint ($30.05)
curtain rod ($3.99)
I found a pre-made curtain valance for $10.99 at target so I purchased that instead of making my own but I want to try this DIY valance by 12 devonshire in my family room!
95.84 is the total spent!! Maybe I can find a cheap greenery piece at the dollar store!
Be sure to check out the other bloggers participating in the $100 room challenge…
Every time I pop into my powder room I just can't get over the difference already – so I cannot wait to get this makeover done !
Next week is the room reveal….so exciting!

Tags:
100 room challenge
,
2017 interior decorating
,
bathroom design ideas
,
bathroom makeover
,
bathroom makeover ideas
,
bathroom update
,
decor on a budget
,
design challenge
,
design ideas powder room
,
design on a budget
,
DIY challenge
,
home decor on a budget
,
interior decorating ideas
,
interior decorating inspiration
,
room challenge
,
room makeover