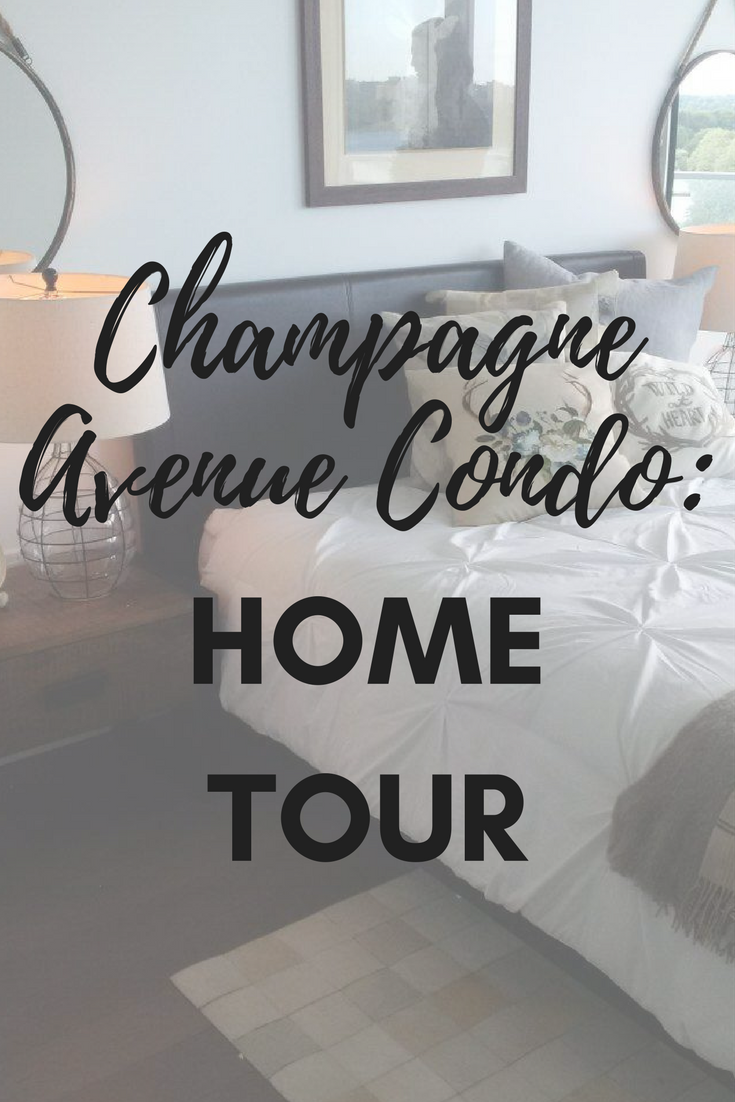 Take the home tour of this Champagne Avenue condo!
The condo …
It's always fun to start with a blank canvas – the couple moving into this condo did not have any furniture – so we had a lot of planning to do and of course, a budget to work within. We had 2 bedrooms and an open concept living room space with a kitchen. The colour palette of this condo is a blend of white and shades of grey, so very 'on trend' and great neutrals to work with!
The look…
This space was a fun one that really challenged us – why? Well, the couple had a totally empty condo with some pretty contemporary finishes like the high gloss white kitchen, the grey glass tile back splash, all white walls, grey floors plus tons of huge windows.  But their style is more rustic meets industrial … they love reclaimed wood, Industrial lighting, lots of texture and not a lot of colour.  We had to bring all of these styles together in this small-ish space and although a blank canvas is fun it can be hard to know where exactly to start. We started with the master bedroom – not a huge room but it was a great place to start with the furniture and of course the styling. And once we had the look of that bedroom we used that inspiration to move into the main living space….
The secondary bedroom is a smaller room and since they didn't need another full-time bedroom, we turned this room into a small work space / den to be used if they needed some quiet space to work or extra room to host over night guests.
Take the condo tour….
To blend the more contemporary finishes with the tastes of the new owners we decided to work with neutrals as our colour palette and add lots of textures that would create contrast – that way there is 'common thread' with the colour palette and introducing the rustic and industrial elements with texture.
We added lots of galvanized metal detail like the kitchen counter height stools.  The coffee table is a painted metal piece, metal antlers and the metal frames on those round mirrors in the master bedroom. We also added textures like rope and reclaimed wood.
You will notice that we angled the rugs in both the living room and den – these rooms are a bit on the long side so by angling the rugs the room appears a bit wider and not just long.  We played with with wall space as much as we could – we think art is a great way to show off your personality and style plus it helps pull a look together. We have some unique pieces in different sizes which keeps the space interesting.
So this is the secondary bedroom, since they didn't need (or want) another fully dedicated bedroom in their condo – we needed to create a multi-purpose space that was still clean in design.  So we added a small work space – neither of them needed a full home office. And this pull out sofa is perfect for another seating space for reading and a private sleeping area for guests.  We added some poufs as foot stools instead of a coffee table – we didn't need the bulk and we love the texture of these rope poufs! This art piece is huge and we love it! It really shows off the couple's fun personality!
So this master bedroom, was where we started with the design….the leather headboard was a great deal and it's super versatile.  We kept the room looking fresh and bright with the pin tuck white bedding, it's adds some femininity to the space as well. We love these round mirrors with rope detail but wall space in this condo was pretty limited so we decided to add them on either side of the bed over the reclaimed wood night stands – they look great and they make the room look a bit bigger, too!
Shop the look ….
Love the rustic and simple design of these round mirrors from Wayfair with the rope detail (they are so easy to hang, too)
These rope poufs are great foot stools or extra seating when you need it! We love the texture of these poufs – they really work well with the industrial or rustic look.
These metal stools were just one of the metal details we added to the space.  These stools have an industrial look (they are pretty comfortable, too) and easy to store – you can stack them!
This all white pin-tuck duvet added another detail and a feminine touch to the masted bedroom – we love how it looks with contrasting textures like brick and reclaimed wood.
You absolutely mix styles and textures to create a space that is all yours – that's what personal style is all about,

Tags:
before and after decorating
,
champagne avenue
,
condo
,
contemporary design
,
design ideas
,
get the look
,
home decor
,
home decor ideas
,
home styling
,
home styling ideas
,
home styling tips
,
home tour
,
industrial decor
,
interior decorating
,
interior decorating ideas
,
interior design
,
Ottawa
,
rustic decor
,
shop the look
,
soho champagne