HOLIDAYS
These are a few of my favourites things...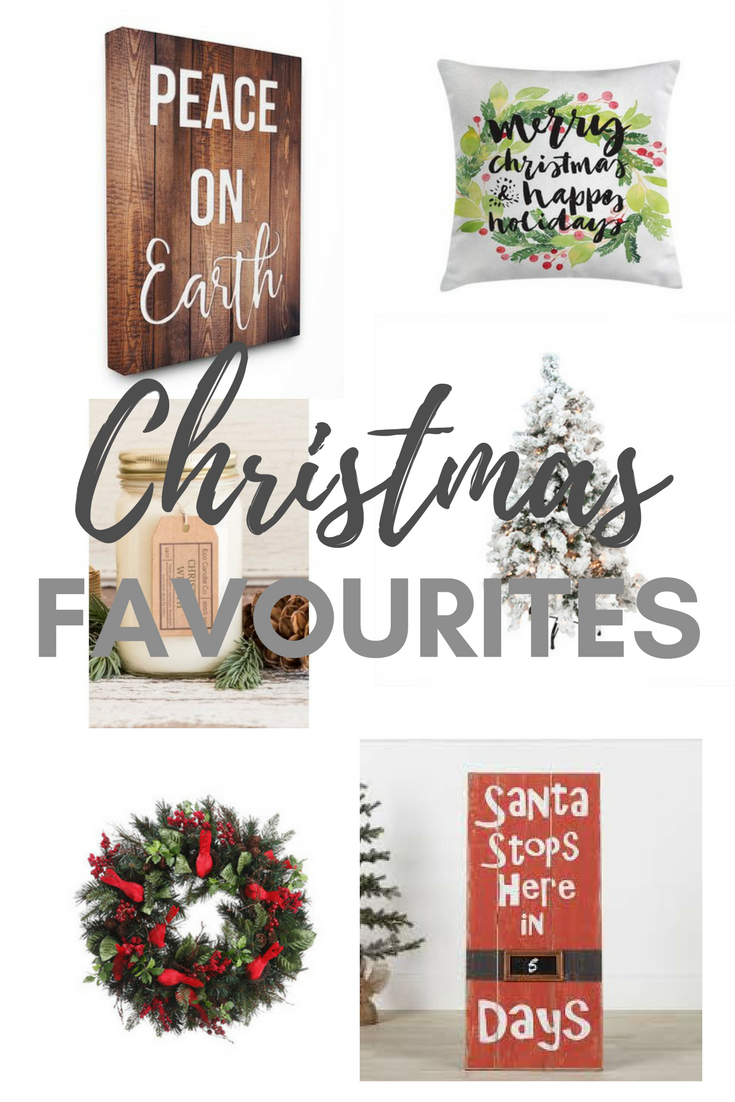 Christmas time is here! and you know what that means…Christmas decor! I love any excuse to decorate but Christmas has to be my absolute favourite time of year – the cool air, the white fluffy snow, the music and the overall spirit of the season is just so warm and welcoming.  In my house we love to start decorating around the American Thanksgiving weekend – that way we can make the most of the season and really get into the spirit.
Over the years, my Christmas decor style has evolved and every year I add a few more pieces to the mix – here are just some of my favourite Christmas Decor items…
Christmas Decor Pillows
I love how simple these are to ad to an armchair or a sofa – plus these would look really cute in a guest bedroom (how welcoming).  This is such an easy piece to add to a room and what I really love about it, is it brings the holiday feel into all areas of the home.  You could either store away your 'regular' decor pillows or if you are short on space, get some Christmas pillow covers instead and zip them on for the season and zip them off at the end of the season.
This is a really cute and festive option from Wayfair…
Christmas Decor Canvas
One of the big holiday trends that we seeing a lot of this year and it is a bit of a nod to the whole farmhouse look is the canvas signs with sayings – I love the simplicity of the farmhouse style and adding in a great farmhouse sign with a Christmas feel is a great addition to a fireplace mantle, a gallery wall or a front foyer vignette.
This wrapped 'Peace on Earth' canvas from Wayfair – is not only a wonderful message but it comes in great neutral tones so it will work with most colour themes.
Christmas Decor Wreath
The Christmas wreath is a classic, we all know that but I am loving wreaths in vignettes, fireplace mantle styling and handing indoors.  I added a festive red and white one to my gallery wall in my family room and again I love how it brings the spirit of the season into all areas of my home.  I also love the look of a wreath hanging on the outside and the inside of a front door – so chic!
When it comes to a Christmas wreath – there is a style for everyone but in my home I tend to stick to the classics like this one….
Christmas Decor Candles
Candles are a great way to add some soft lighting – they also make a great gift.  This year I purchased some beautiful 'Christmas scented' candles for my kids' teachers – I love the simple look of these ones in the mason jars – plus it is a 'one size fits all' gift.  Candles are great addition to a coffee table, console table or a fireplace mantle….
Christmas Decor Snowy Tree
This year, we finally purchased a new Christmas tree – we are a big fan of the artificial tree for a few reasons…it's not as messy and high maintenance  as a real one and with 4 children under the age of 9 – we need to keep it simple.  Plus we used to travel quite a bit over the Christmas break and a real tree can lead to some real problem if it is not watered regularly, so a fake tree it is.  But there are so many beautiful options – like the one we just purchased.  I have been eying these snow flocked trees for a while and my husband surprised me with one this year and I LOVE IT! It is so pretty just on it's own but once you add the white lights and all of the ornaments, it is just magic!
Christmas Decor Countdown
My kids are always asking me…"how many days until Santa?".  It's cute and I know they are SO excited! I saw this sign at one of my favourite stores, Urban Barn and I knew it had to come home with me this year.  I love the rustic farmhouse feel of the sign and of course, that chalkboard feature – Santa stops here in # days .  We have placed ours on our mantle (we have the height) but it is actually designed to stand on it's own, it would be great by the fireplace or at the front entry – it's a cute addition to family friendly Christmas decor….
Do you have any favourite Christmas decor pieces?