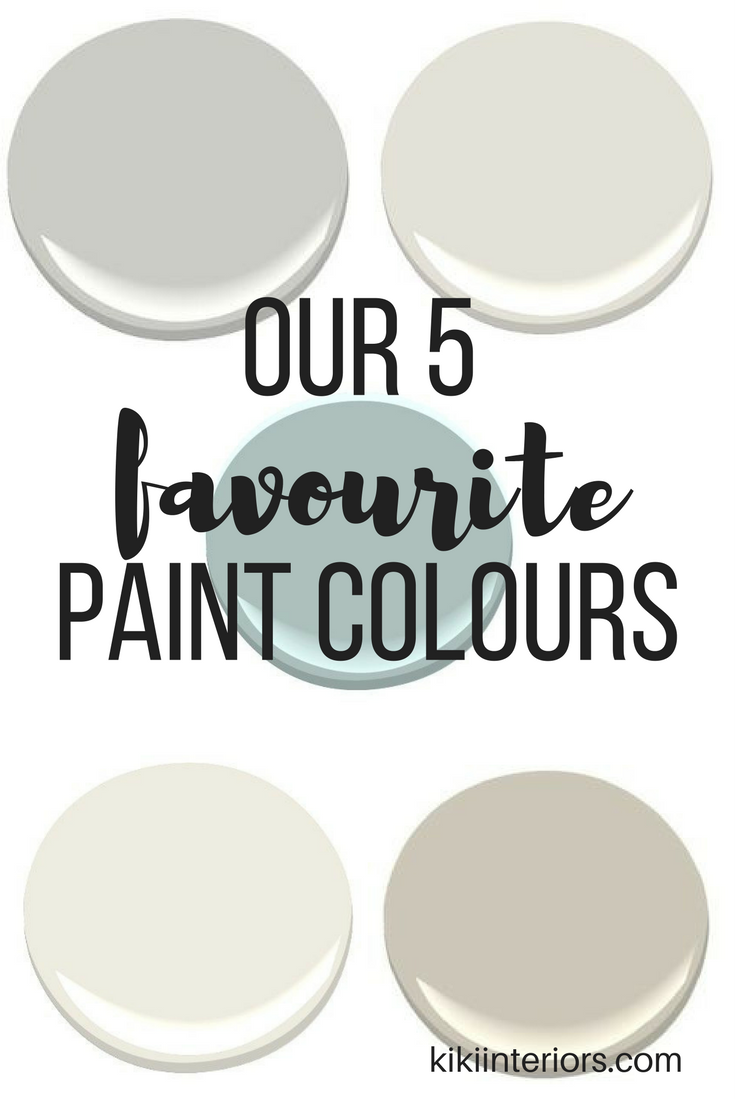 If you have been reading our blog (thank you!) you have noticed that we have recently posted some amazing before and after photos of a paint transformation.  The right paint colour truly make a huge difference! 
Paint is your backdrop, your canvas and with paint you can really set the tone for your decor style.  Like all designers and decorators we definitely have our favourite paint colours but it really does depend on your light, existing finishes and the mood you want to set .  We want to share with you our 5 favourite paint colours (and in no particular order)
Here are our 5 favourite paint colours (right now)…
#1. Paint – Classic Gray:
Benjamin Moore 'Classic Gray' is a soft and light grey tone .  It is on the warm side. It is a favourite of ours – we have used it with our investment clients – to give their rental properties a current and fresh look but still bright and clean.  We are also using this in one of our 'sample board' projects for a townhome community in the city!
This stunning living room, designed by Studio McGee, is a great example of 'Classic Gray' walls – see how light and warm it is! Even Jillian Harris did a Home tour video of the home she just sold as was talking about her love of Benjamin Moore's 'Classic Gray'. These 2 amazing designers can't be wrong!

#2. Paint – Stonington Gray:
Benjamin Moore's 'Stonington Gray' This is a true grey tone that we have used a number of times. It's a medium tone grey that looks greta in space where you want to add just a touch a depth. It's still very fresh and clean looking too! It's from the Historical collection and works nicely with exteriors too.
Stonington Gray looks great in this eat-in kitchen space! It makes the space look fresh and current and with all the big windows and natural light this colour adds depth without making the space feel dark. The white light shade, trim and chairs are a nice contrast to the grey wall paint.
#3. Paint – Swiss Coffee:
Benjamin Moore's 'Swiss Coffee' not a new colour but a new favourite of ours! It's rich and creamy warm white and it's amazing with the whole Farmhouse style.  It's so clean and crisp and looks great as a canvas for artwork and other decor pieces. We are using this in a model that we are working on right now – that's launching in early June (stay tuned…)
This living room designed by Onekindesign.com – it's incredible!! So now that you have taken in the beauty of this room, here's why we love this paint colour.  It really allows the other elements in the room to be the star and it pulls everything together. The wood and the stone really stand out and give the room a big WOW factor but that paint compliments and adds a subtle warmth to the room.
#4. Paint – Revere Pewter:
Benjamin Moore's 'Revere Pewter'  This is another paint colour from the Benjamin Moore Historical collection.  This is a great colour for anyone who is a bit hesitant to jump into a gray paint colour.  This is more a member of the taupe family or a warm grey.
You can see here, in the image above, how soft, neutral and warmth this paint colour is! It's enough pigment on the walls but not too deep or intense.  It is a great neutral taupe-y tone without any yellow under tones. It's great for gender neutral space or even a boy's bedroom – you can all the accessories and colours you want and they will work!
#5. Paint – Wedgewood gray:
Benjamin Moore's 'Wedgewood gray' is a beautiful shade of blue.  Typically we are big fans of neutral walls but if I had to pick a colour it would be something in a shade of blue. This is a great colour for certain areas of the home that you want to bring colour into with art and accessories so for instance a mudroom or front entry. There's usually a lot of trim, flooring and other hard textures, so a bit of colour on the wall breaks it up a bit.
So here's an entry painted out in Wedgewood Gray – it's such a fresh and clean colour.  The white trim and wall paneling really pop too.  The hall tree is painted in Kendall Charcoal – both Benjamin Moore colours – it's a great colour combination with the white and blue.
So these are our 5 favourite paint colours right now….what do you think?
Tags:
benjamin moore paint
,
best grey paint
,
best neutral paint colours
,
best paint colours
,
best paint colours for home staging
,
best paint colours for the home
,
best paint colours to sell a home
,
favourite paint colours
,
home decor ideas
,
home decor tips
,
interior decorating ideas
,
interior decorating tips
,
neutral paint colours