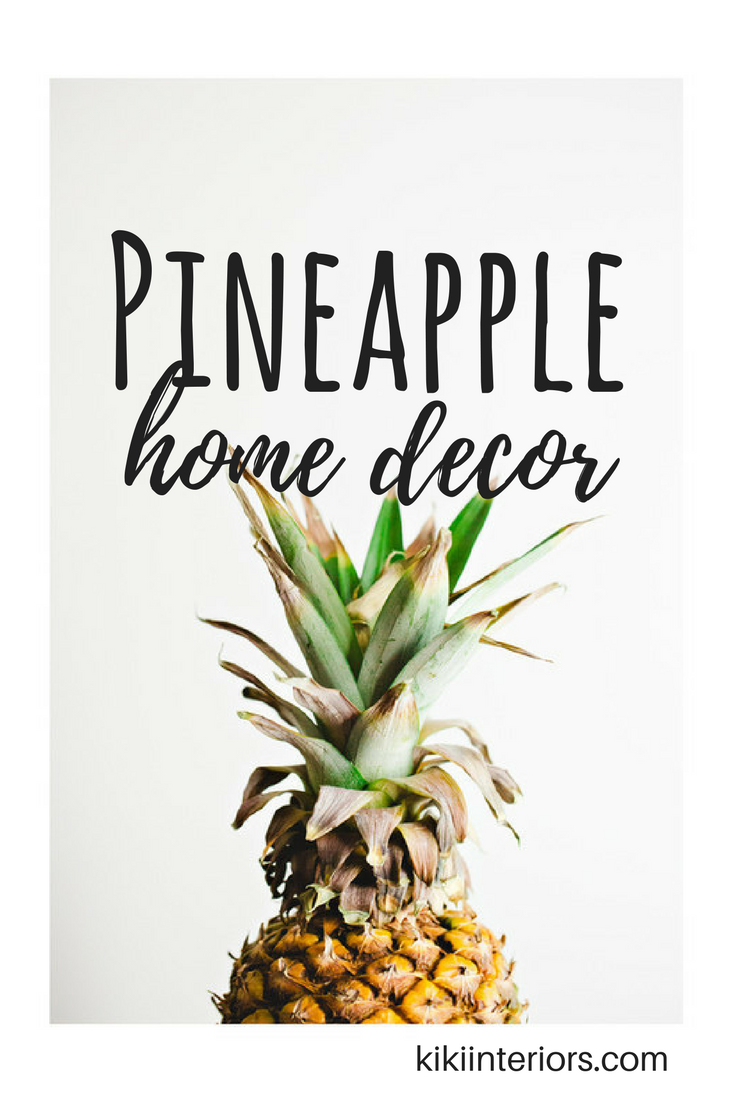 Pineapples seem to be everywhere these days, don't they?!
The pineapple trend is going strong – pillows, art, outdoor furniture, decorative accents and more….You might be thinking that pineapples are trending right now because it is summer and pineapples have a tropical flare that we think of when the sun is out.  But pineapples actually have a history in home decor.
Photo credit – Erica Hammer
Pineapples – the symbolism
Seafaring captains used to impale fresh pineapples–souvenirs of their lengthy travels to tropical ports–atop the porch railings of their homes when they returned. It was a symbol then that the man of the house was home–albeit briefly–and receiving visitors.
During early Colonial days in the United States, families would set a fresh pineapple in the center of the table as a colorful centerpiece of the festive meal, especially when visitors joined them in celebration. This symbolized the utmost in welcome and hospitality to the visitor, and the fruit would be served as a special desert after the meal. Often when the visitor spent the night, he was given the bedroom which had the pineapples carved on the bedposts or headboard–even if the bedroom belonged to the head of the household.
Photo credit – Burkaton
There's a small town in rural Alabama that boasts symbols of the pineapple everywhere  -the town 'Pine Apple', settled by "Easterners" from the Carolinas, Georgia, and Virginia around 1820 was originally named "Friendship". But there was already another Friendship, Alabama, so they named their town in honor of the pine and the apple trees that gave the land its beauty and the town its wealth. These days, the town's name is as often written "Pineapple". Signs of this universal symbol of hospitality are seen painted on the front doors of homes and the town's welcome sign, carved in finials and even Christmas decorations, on gate-posts and roof-tops, carved into bedposts and head-boards, and found in a variety of table centerpieces.
Not only have wood-carvers etched this symbol, but the delicate hands of needle-workers have preserved this symbol in family heirlooms over the centuries. Items such as pineapple samplers, table cloths, and crochet doilies are just some of the items found in homes to welcome friends and visitors.
The pineapple has been a universal symbol of hospitality and welcome for many centuries all over the world.
For more information of the history and symbolism of the pineapple, click here …
Photo credit – Aimee Wilder
Decorating with Pineapples
Pineapples can be found in many areas of the home for decoration.  Historically they were displayed outside to send the message to friends and neighbours that 'guests were welcome'.  In areas of the southern United States, we often still see pineapples on the exterior of homes – door knockers, address plaques and doormats are some of the more common decorative touches with pineapples.
Lately, we have been seeing a resurgence of pineapples in home decor and we are seeing a modern spin and even a bit of a quirky spin on the pineapple theme.
 Photo credit – The Pink Dream Designs by Ceres 
Our picks for decor pieces featuring pineapples:
These outdoor pineapple print pillows are perfect for a backyard oasis.
These pineapple string lights are perfect for an outdoor dining space or seating area – they add a tropical touch and a bit of whimsy.
Add a pineapple art piece at your front entry or mixed in with your gallery wall. We love this simple print from Minted.

These pineapple pinstripe bed sheets add just a small detail to any bedroom – we love these for a guest bedroom! Perfect for a warm welcome for out of town friends and family.
Welcome your house guests with a snack on this pineapple serving board – just another inviting touch to home entertaining!
Historically, pineapples were used as centerpieces when entertaining guests at a dinner parties – this ceramic pineapple figurine could be added to a table or at the front entry console table.
You don't need to spend a fortune to make guests feel welcome and add warmth to your home. Even a simple, fresh pineapple centerpiece inviting and natural way to welcome your guests – no matter where you live.

Tags:
centerpiece ideas
,
history of pineapple
,
home decor trends
,
home entertaining
,
hospitality
,
how to decorate with pneapples
,
inviting
,
meaning of pineapples in homes
,
pineaplle home decor
,
pineapple
,
pineapple decor
,
pineapple design
,
pineapple home accessories
,
pineapple hospitality
,
pineapple pillows
,
pineapple symbol
,
pineapple the meaning
,
pineapple wallpaper
,
symbol of the pineapple
,
welcoming