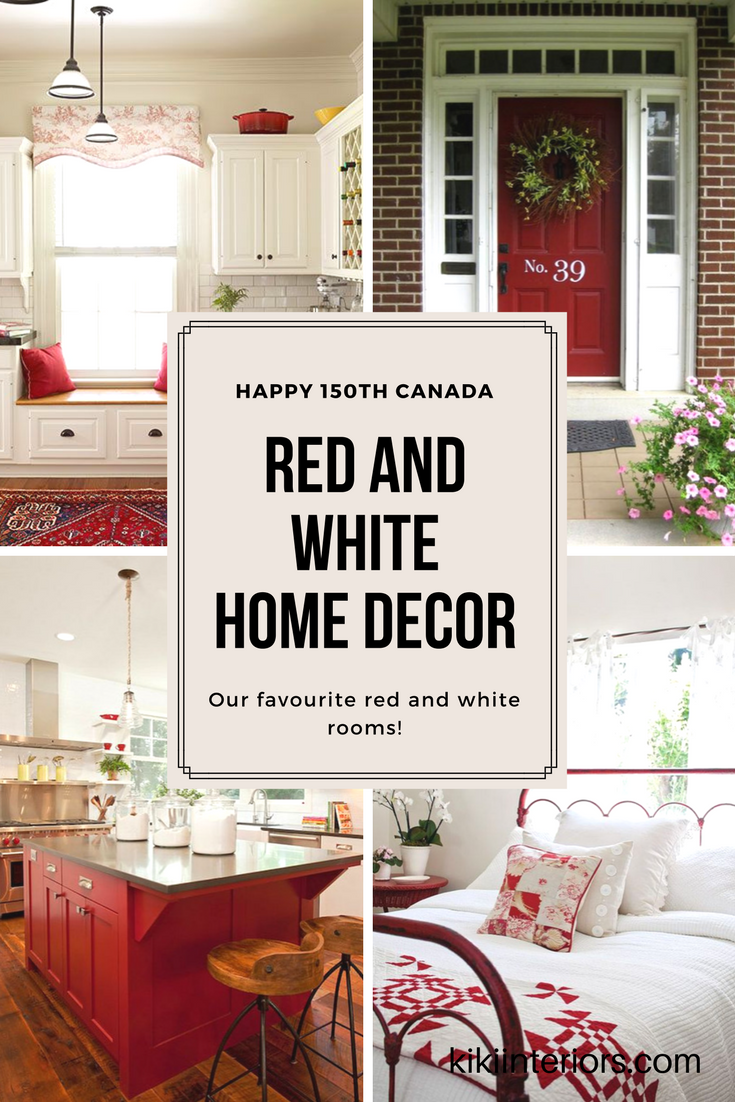 Happy 150th Canada! What better way to celebrate a beautiful country than with decor….you can celebrate our nation (and it's colours) with red and white all year long….
To celebrate Canada's Birthday –
Here are some of our favourite red and white rooms:
This red and white country bedroom has such a relaxed look.  This is perfect for the cottage or any home that has a more rustic feel.  We love this metal bed frame that has been painted in a red chalk paint that has a bit of an aged feel and then paired with the crisp white sheets.
You know we love a white kitchen and this white shaker kitchen with a cute window seat is perfection! Red is a bold pop of colour so you don't need a lot to make a statement – a few pillows in this window seat are just enough.  We also love the mix of pattern in this space – the toile in red and white for the window valance and the rug – add some more visual elements in red.
Tired of blue for a boys bedroom? Ya, we are too! Red is a great alternative – it is bold, sporty but also a classic it pairs well with the 'typical' masculine palette like grey, navy blue and brown – it is used in a lot of sports logos so you could use that for decor inspo, it also works well with a nautical theme but for something more current try adding red to a rustic theme boy's bedroom, like this one featured in Style at Home.
We love the look of a two tone kitchen – either upper and lowers in different colours or the island one colour separate from the rest of the kitchen.  We showed you a red and white kitchen earlier but this one takes it to the next level….a red painted island in a white kitchen – it might be too bold for some but we like the warmth this tone brings to the space and how nicely it pairs with the wood tones, too
With red and white decor, think outside, too
A red door (white white trim) is such a fresh and clean look plus a red door is just so welcoming – depending on your existing exterior colours will help determine which shade of red is best but there are so many to choose from …
We love red and white for the outdoor patio and seating space, too! It adds a great pop of colour plus it is a timeless colour combination, so you can re-use these for a few years…
Red and white home decor doesn't have to be just for Christmas or Canada Day …red and white is a classic combination that you can decorate with all year long….