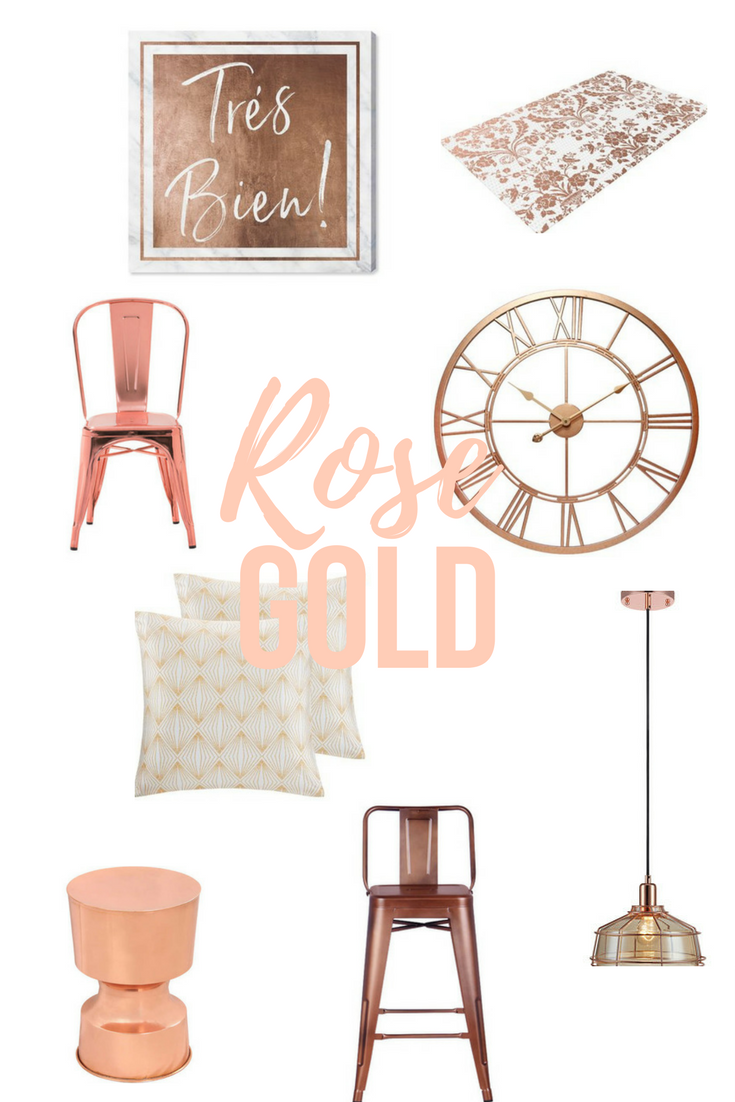 We are working on an exciting new design project with a client  -we will be sure to reveal this mystery client and the project as soon as we can- but for now we want to share one element that is inspiring us right now for this project…rose gold!
Yes, we know rose gold isn't new but it is the first time that we have had a client to work with that has really embraced this stunning colour.
Rose gold…
is a sexy and feminine colour that blends gold and a soft pink.  It is warm, girly, sultry and we love it! Our client is a big fan, too and since this space that we are designing is all about her – we are definitely adding this tone to the space.
 Inspiration….
We love blending this warm metallic with shades of grey, white and millennial pink . When we are designing spaces for clients we love for them to show us some images that inspired them …
Photo credit : Wedluxe
No, we aren't planning a wedding – but this image really sums up the elements that our clients likes – the florals that are full and subtle, the soft colour palette, the reflective surfaces (shiney and sparkly), the simplicity of the pieces and of course, the rose gold…
Photo credit : Flooring Canada Simcoe
Rose gold doesn't just have to be in metal texture.  This room is another source of inspiration – it is so feminine and light.  All of the layers in this bedroom make it so dreamy and light.  Plus the pairing of the clean white walls with rose gold and blush tones is just so stunning.
Shop ….
1 light pendant in rose gold finish – these would look amazing over a kitchen island (if you want a feminine touch in your kitchen) or these could be a great light flanking a bed…
24″ Bar stool in rose gold finish – add some glam to your kitchen or bar space with these bar stools…
'Tres Bien –  Art' – Add some sparkle to your walls with this art piece in a metallic finish…this would be a fun addition in a bathroom or a bedroom for a teen.
Instead of art on the wall add some interest and function with this oversized 28″ wall clock
Love these faux silk pattern throw pillows they would look great on a bed with a bit of a glamorous feel like a tufted headboard – or a great accent in a feminine office space.
This accent stool is a great way to add this metal texture and tone to a space – this could be used as extra seating and even a side table for an accent chair.
This floral baroque rug is so feminine and pretty – this would be perfect in a feminine office…
We love this style of chair – it's great as a small space accent chair, dining or kitchen table chair or even guest chairs in an at home office. This side chair also has a high shine finish that we like….
Metallic finishes and pieces can look very masculine but this is a great option for anyone looking for a warmer and feminine feel to add to their space….What do you think of this metallic tone?