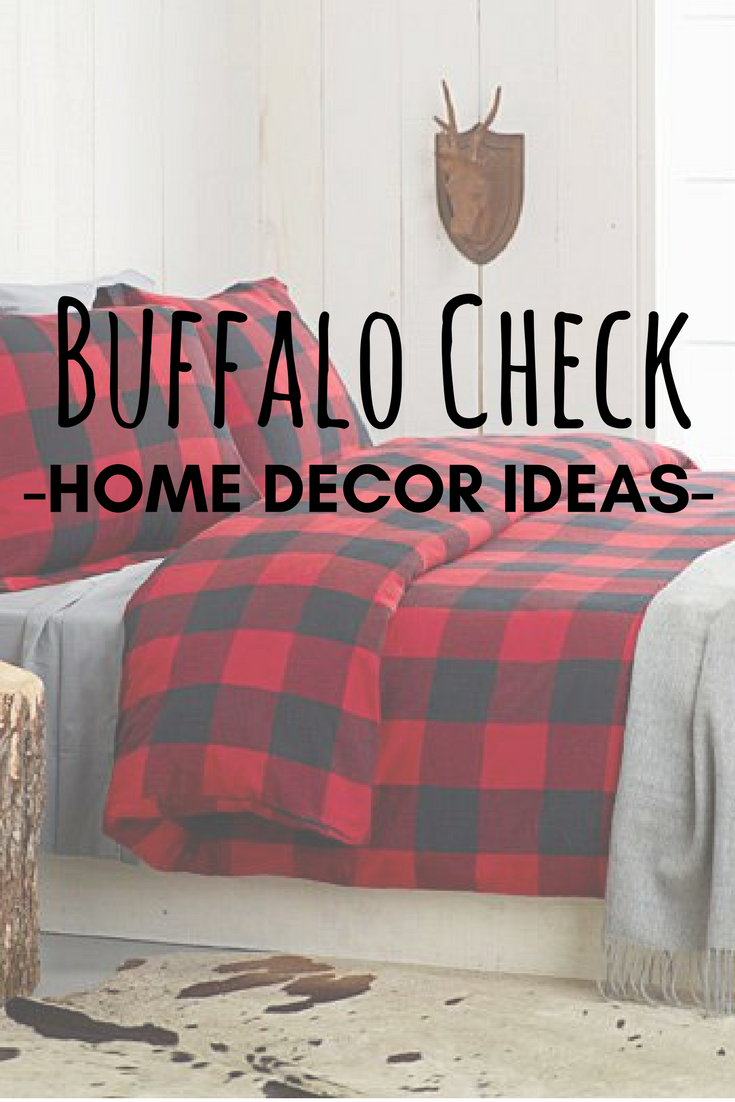 What is Buffalo Check?
This pattern is also known as Buffalo plaid.  It originated at Woolrich Woolen Mills in the 1850's. This pattern is traditionally seen in red and black but over time there have been many colour variations.
Photo credit : hm.com
The pattern is often 2 or 3 colour striped fabric creating equally sized large squares (gingham is similar but the squares are much smaller).  Buffalo check had a real moment in 2015 holiday decor .  Plaid is always a popular choice at Christmas and this pattern fits the style plus with the popularity of woodland inspired decor the pattern is a perfect fit!
Photo credit : Etsy.com
Buffalo Check and Home Decor…
This plaid print works very well when paired with a rugged and rustic look (think ski chalet) but in other colour variations it can also work in more transitional, farmhouse and traditional styles.  Buffalo plaid can be used in many different ways – ranging from upholstery to table settings. Here are some of our favourite rooms with Buffalo check.
Photo credit: Simons.com
This bedroom has a rustic mountain home look with the traditional red and black Buffalo plaid pattern.  Paired with the cowhide rug and shiplap walls – this room has a rugged and cozy feel.
Photo credit : Magnolia Home
Add a touch of country to your walls with this water colour effect wallpaper in Buffalo plaid print – the black/grey/white colour scheme is very neutral easy to work with.  It pairs beautifully with the wood tones and the simple and clean bedding – the style in this room has some mid century modern elements but it works with this check pattern on the wall.
Photo credit : Damask et Dentelle
Pillows in a Buffalo plaid is a more subtle way to add this print into your decor.  Again the black / white/ grey plaid print is a great addition to any space – this is beautiful at a front entry bench, living room, bedroom and this dining banquet.
Shop Buffalo Check
Here are some of our favourite home decor items in rustic inspired pattern…add this print to your space this fall or winter to bring that cozy feel in your space.

Personalized Buffalo Check Throw

Urban Retreat 33′ x 20.5″ Buffalo Check Wallpaper

Twill Buffalo Check Cotton Throw Pillow

Philomena Classic Buffalo Plaid Check Table Runner

40 Buffalo Check Bean Bag Chair – Large Personalized Buffalo Check Bean Bag Chair
What do you think of this classic yet rugged pattern?

Tags:
buffalo check
,
buffalo plaid
,
Christmas home decor
,
decorating with plaid
,
fall home decor
,
fall home decorating
,
home decor
,
home decor ideas
,
home decor inspiration
,
interior decorating
,
interior decorating inspiration
,
plaid
,
plaid fall decorating
,
plaid home decor
,
shopping home decor